Deep purple color; red fruit, dried flowers, tar on the nose; dark plum, blackberry, raspberry, dark chocolate, coffee, smoke, mint, pepper on the palate.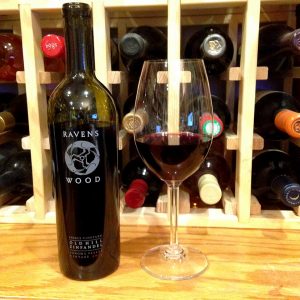 Dry; full body with ripe, concentrated fruit. Fine, firm tannins and excellent balancing acidity (3.64 pH); 14.5% ABV on the spec sheet, but 15.2% on the website—either way, does not come across as hot. Blend of 96.8% zin and 3.2% mixed black grapes. Aged 19 months in French oak, 30% new. Lovely effort.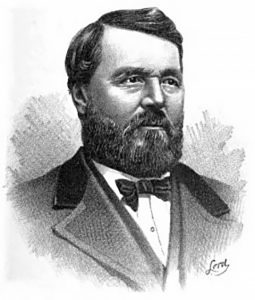 Sonoma's first famous zin was made by William McPherson Hill in 1862 with fruit from this vineyard. Hill planted the entire vineyard in the 1870s, making this an old vine zin indeed, probably the oldest zinfandel vines in Sonoma. The Hill family worked the vineyard until 1940, but the vineyard deteriorated and became overgrown with poison oak and blackberries. Otto "Mose" Teller purchased the property in 1981, cleared out the undesirable plants to reveal the ancient zin vines. Two years later, Joel Peterson began buying fruit from Teller and making this complex, superb zin.
Joel Peterson started the Ravenswood adventure in 1976. Educated as a clinical laboratory scientist with a degree in microbiology from Oregon State University, Joel is the son of two chemists. Mom was a nuclear chemist who worked on the Manhattan Project. Dad was a physical chemist who specialized in high-temperature lubricants used in industrial machinery. With this grounding in science, Joel pursued a full-time career in cancer immunology research at a San Francisco hospital. And he dabbled in wine.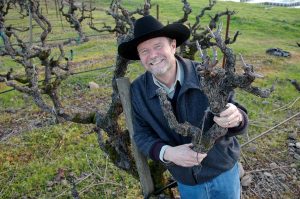 On a fall day in 1976, as ravens taunted him from tree branches above, Joel worked feverishly to bring in four tons of grapes before a looming thunderstorm hit. The fruit crushed that night was used for one of two single-vineyard Sonoma County zins—the first wines to bear the signature ring of three ravens in the Ravenswood logo. Those wines won first and second place rankings at the prestigious San Francisco tasting in 1979.
Buoyed by those bona fides and partnered with Reed Foster—a Harvard MBA who managed paper pushing while Joel managed plant pushing—Joel attracted investors, spent five years moving around rented winery spaces, and gained access to a cadre of loyal and talented grape growers. In 1991, Ravenswood moved to its own, modern winery on the outskirts of Sonoma. Today it is a brand of Constellation Brands, the largest wine company in the world, but—fortunately—one that does not mess up an operation when they buy it. In many cases, and I believe this one, they keep the people on board who made the acquisition enticing to begin with.
Zin arrived in California at several locations in the 1850s, brought by New England gold rushers, who knew the grape in New England beginning in the 1820s. In California "Zeinfandall"—as it was called—became the state's most important wine grape. Today, at 54,000 acres, it is California's second-most planted behind cabernet sauvignon.
Ravenswood Single Vineyard Old Hill Zinfandel Sonoma Valley 2015 is silky smooth, sophisticated, delicious, complex, concentrated, fruit-forward, well-behaved ancient vines zin—likely from the oldest zin vines in Sonoma. Ravenswood and Joel Peterson are zin masters, and this is one of his best. Ravenswood is widely available, although with 900 cases of this made, you may have to search to find it—go online. If you can't find this, other Ravenswood single vineyard efforts will deliver, too.
Pair with leg of lamb, grilled prime rib and other grilled meats; meat stews; barbecued meats; pork tenderloin; spicy foods. You could go with comfort foods such as loaded hamburgers, sliders, and pizza, but this is so sophisticated, I wouldn't opt for this serious, delightful effort on every day fare. $50-60
https://www.ravenswoodwinery.com/