Medium ruby color; strawberry, eucalyptus, cherry on the nose; cherry, raspberry, plum, fig on the palate.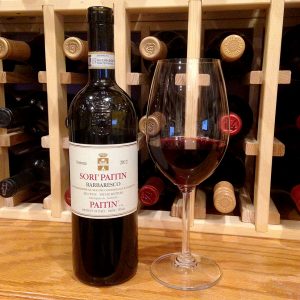 Dry; beefy, dense, lush in the mouth. Tannins have matured after six years. Barbaresco—and barolo, the other pinnacle Italian red made with nebbiolo grape—need age to knit together the diverse and assertive elements, especially the tannins. This has pleasing acidity to add wonderful balance. Well-structured. Red fruits lead the attack, followed by the darker fruits, plum, fig, white pepper, tobacco, and licorice on the mid-palate and delicious—very delicious—finish.
The Pasquero-Elia family has produced wine for several centuries—purchasing their first property in 1796. The small estate is one of the historic properties of Piemonte, and one that consistently earned critical acclaim. Brothers Giovanni and Silvano Pasquero-Elia could easily have rested on their laurels, but in the spring of 2010, they enlisted the services of consulting oenologist Dante Scaglione, former classmate of Giovanni's when they attended the oenological school in Alba, to take their operation to the next level.
Scaglione suggested more careful treatment of the fruit post-harvest, ideas on how to best press nebbiolo, and a greater focus on hygiene. Paitin bottles three barbarescos from the estate's vineyards, all of which are in the Serraboella district in Neive. The Serra is made from the youngest vines on the property, typically under 20 years of age. The Sori' Paitin is made from 40 year-old vines, while the Vecchie Vigne is an old-vines bottling.
In an interview, Galloni noted: "The Pasquero-Elia family has superb vineyards and already knew how to craft delicious wines, but the continued search for excellence and the willingness to invest in the future is what separates the true greats from the merely good and excellent producers."
Paitin di Pasquero-Elia Sori' Paitin Barbaresco 2012 is all you want from a barbaresco. Powerful, loaded with red fruit and dried fruit flavors; assertive tannins tamed by bottle age and balancing acidity. Barbaresco sometimes is called queen to barolo's king among Piedmont nebbiolas, but you will find them both serious wines not for the faint of palate. Pair with darker, gamier meats with rich sauces—venison, prime rib, grilled steak, lamb; spring pea basil risotto; poultry, especially wild poultry like wild duck, pigeon, guineafowl, pheasant; old, strong cheeses such as parmigiano reggiano, old cheddar and old gouda; blue cheese like gorgonzola and castelmagno. $43-52