Extremely pale pink-gold color; delicate, faint rose, strawberry, and cantaloupe on the nose; cantaloupe, red berries, strawberry, spice, pepper on the palate.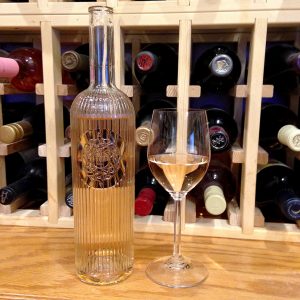 Dry; this is classically delicate Provence rosé—the light gold-pink color tells you that at first glance. Good acidity (3.4 pH), round texture, 12.5% ABV. Blend of 30% grenache noir, 30% cinsault, 30% syrah, 10% rolle from the Ultimate Provence vineyard, 100 acres around the town of La Garde Freinet, near the northern foot of Notre Dame des Anges chapel and 30 minutes from Saint-Tropez. The dash of rolle—southern France's name for vermentino—provides acidity, citrus notes, and aromatics. It is often called the "secret sauce" in Provence Rosé.
This resides in a classically distinctive Provence bottle—Provence wineries compete with each other to offer dramatic, unique bottles. That is part of Provence charm, but the core attraction is what is in the bottles. Almost all Provence wines are rosé, so vintners in the region must be thrilled by the ascendance of rosé in recent years. Their offerings are the royalty of rosé.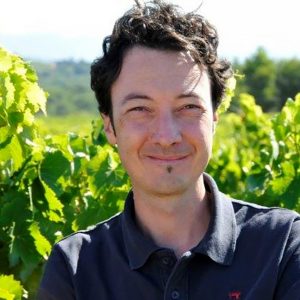 Ultimate Provence is part of the four estate Provence Rosé Group that also includes Chateau de Berne, Château Saint Roux, and Château des Bertrands. Urban Provence is a label of Ultimate Provence. Alexis Cornu is the winemaker. The website notes: "Set in wild countryside and bordered by a vast evergreen oak forest, the vineyard is characterized by shallow soil, laid on a waterproof subsoil sandstone slab. This excellent terroir is nourished with a natural compost of oak leaves and vine stalks. Ultimate Provence's contemporary, luminous bottles are inspired by the vineyards light, bright spirit and offer it's drinkers an extra surprise!"
The Provence region is located east of the Rhône River in southeastern France. Italy is its eastern border, the Mediterranean is the southern. It often is called the French Riviera. Marseille, Saint Tropez, Monaco, and Nice are principal towns. Wine has been made there for 2,600 years, since the Greeks founded the city of Marseille. The wine region, thus, reflects influence of Greeks, Romans, Gauls, Catalans, Savoyards, Spaniards and Italians. It is this millennia-deep knowledge that helps make Provence wines special.
The Côtes de Provence AOC covers more than 85 communes (small cities or townships; the name has nothing to do with Communist political ideology). Côtes is the French word for coasts; côtés is French for sides or slopes. The Côtes de Provence account for 75% of wine production in Provence and 80% of that production is rosé, making Provence a virtual synonym for rosé in French wine. Grenache and cinsaut are the major grapes used in the region, although carignan and syrah also are allowed, and then there is rolle (vermentino). By AOC rule, at least 20% of the wine must be made using the saignée (bled) method in which some of the juice is bled from the must (freshly pressed juice) in order to provide concentrated phenolics, color, and flavor of the red wine.
Urban Provence UP Rosé 2017 is delicate and versatile, a quintessential Provence rosé with all the Provence touch points—theatrical bottle, dramatically ethereal color, precise and graceful flavors. Rosé is extremely versatile food wine: you can pair a delicate wine such as Urban Provence UP Rosé with barbecue; grilled chicken; roast and grilled lamb served rare; risoto—light seafood and vegetable version; vegetable skewers; Greek souvlaki; charcuterie; cantaloupe wrapped in prosciutto; anchovies; green salads with tomatoes. $23-26