Deep purple color; red berries, black berry bramble, tobacco, baking spice on the nose; cherry, dark cherry, blackberry, black plum, blackcurrant, rhubarb on the palate.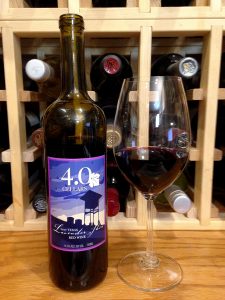 Dry; full body, surprisingly silky tannins, especially after some air in a big glass—candidate for decanting. Balancing acidity. The blackcurrant tang is like a flicker in the initial attack, where the fruits and 14.3% ABV give it an illusionary taste of sweet. Then the blackberry bramble and blackcurrant and rhubarb arrive on the mid-palate and beyond to give this the gravitas to hang with whatever Texas sultans of grilling and barbecue want to slap on your plate. Blend of 45% montepulciano, 40% alacante bouschet, 15% malbec.
4.0 Cellars is a collective effort of three of the pioneering leaders of the surging Texas wine industry: Kim McPherson of McPherson Cellars—son of the iconic progenitor of the Texas High Plains AVA, Doc McPherson; Pat Brennan of Brennan Vineyards; and Gene Estes of Lost Oak Winery.
The 4.0 label has dual meaning. It is the fourth effort of the principals, a collaboration after their individual efforts, but given McPherson's genesis story from his father, a doctorate professor at Texas Tech University, the website notes: "our name highlights the group's goal to consistently reach 4.0 perfection in our winemaking and customer service." You can take the son out of the university, but you can't take the dad's university influence out of the son.
Brennan Vineyard is in Comanche, TX, where this wine was produced and bottled. Comanche is on the liberally interpreted northwestern fringe of the Texas Hill Country AVA, sort of halfway between Abilene and Waco. That likely means nothing to you if you are not a Texan.
Lost Oak Winery is in Burleson, TX, which virtually is a suburb of Fort Worth—where the West begins—and, to be honest, probably is part of the Hill Country AVA more in spirit than in truth. Whatever, Lost Oak has been growing and selling grapes since 1989. Gene Estes decided to begin making wines in 2006 after retiring from the pharmaceutical industry and a few years later his wines were winning awards.
Gene was a leader in fighting for winery rights and fought for the rights of Texas vintners to sell wine beyond their tasting rooms. The restriction was an antediluvian vestige of the idiocy of Prohibition. Texas Ag Commissioner Susan Combs agreed. Sanity prevailed in 2003. That year, Texas had 70 struggling wineries. Today, it has well over 300 and more almost every day. The Texas Hill Country AVA is the second-most visited AVA in the United States, second only to Napa. Texas ranks fifth in wine production in the U.S. Its wine industry pours more than $13 billion into the state's economy, and supports more than 100,000 quality jobs. See what can happen when you have vision and can convince politicians to do something sensible.
4.0 Cellars Lavender Skies Texas Red Wine 2017 is rich and complex, especially after it has time to stretch out in some air. The brambly notes and blackcurrant tang likely will alarm those panicked by assertive reds, but coax them into pairing with savory red meat and see if an "ah ha" flourescent lightbulb appears over their head. Pair with rich, red meat dishes; duck schnitzel; barbecue; charcuterie platters. $35