Medium straw color; lime, flowers, petrol on the nose; candied tropical fruits, peach, key lime, lemon meringue pie on the palate.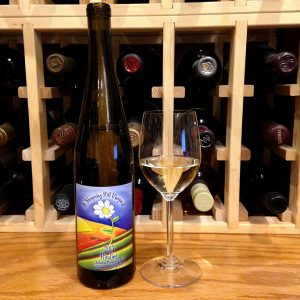 Off-dry—28 g/L, which approaches the sweeter end of off-dry (after 35 g/L you are into medium sweet territory). The sweetness is balanced by a welcomed acidity, balancing acidity being a hallmark of riesling. The petrol notes on the nose—petrol is a riesling characteristic, not a flaw—blend with a slight oiliness on the very smooth mouthfeel. Interestingly, the wine gets drier on the finish. Prepare for an engaging journey sipping this wine; 11% ABV
The winery owners' back story is charming. They met more than 40 years ago when Jim worked for the company involved in legendary children's shows "Sesame Street" and "The Electric Company," as well as notable concerts filmed in Central Park. Holly was his secretary for a while. It wasn't until 2006, after each of them had moved to the Pacific Northwest, that they met again, and this time cupid's arrow hit home. The company's website gives greater detail of their love story. Romantics should visit and enjoy their video.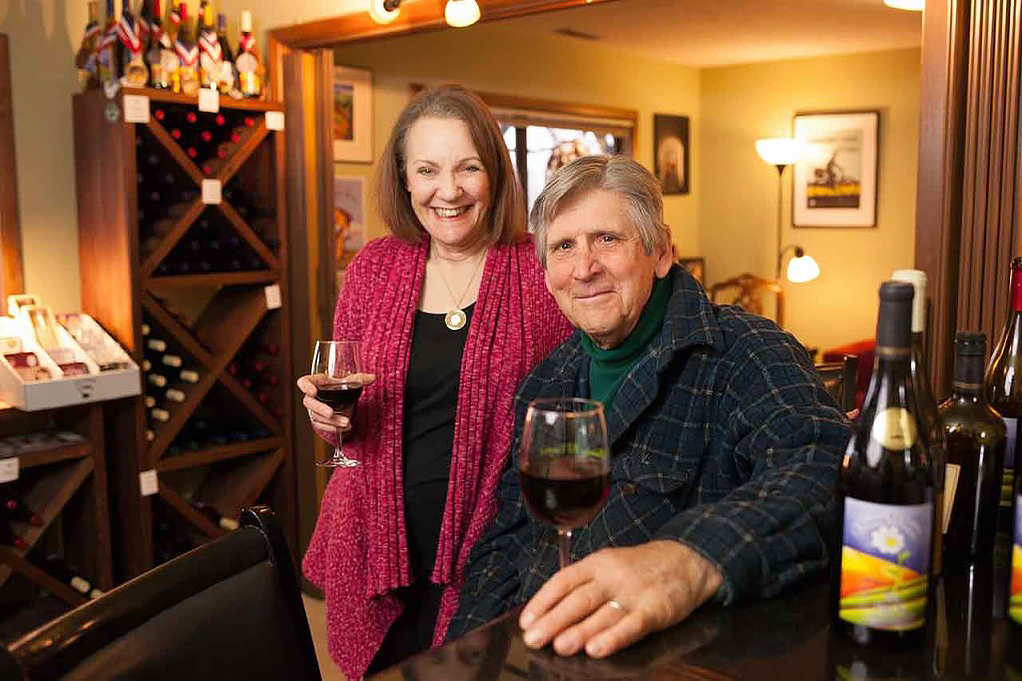 A Blooming Hill Vineyard is better known for its pinot noirs and a pinot gris-riesling-chardonnay blend called "Mingle". This fills a niche in their wine repertoire. Riesling is an amazing grape. On the one hand, if allowed to fully ripen, it produces great sweetness. In the past that was a proper way to balance riesling soaring acidity. Riesling may be the world's most versatile wine grape: it can run the spectrum from extremely dry with cutting acidity, all the way to ice wines that are sweeter than honey.
Riesling makers have focused to dry riesling this century, but that holds perils, too. Makers comment making a dry riesling is much more difficult than a sweet one. One noted: "I always call dry wine 'naked.' Sugar provides a very nice cover to mask flaws and deficiencies in a wine." That is not what is happening with A Blooming Hill Vineyard Riesling. This clearly is not a dry riesling, but it is not a sweet riesling, either. In fact, it likely fits the profile of historic riesling, before cellar science gave makers to tools to shape fermentation and engender the current vogue of dry riesling. Done right, all the styles can be delicious, as this effort is.
A Blooming Hill Vineyard Riesling, Chehalem Mountains 2017 is on the sweeter end of off-dry, but good acidity and rich fruits play well together. This is not the treacly sweet plonk of the 70s and 80s. It is a nice expression of riesling and worth a taste if you can find it. You may have to buy from the winery's webpage. Nice as an aperitif; pair with spicy foods—Asian, Thai, Mexican, Indian—also with fruit-based sauces and salads. It also could serve as a desert wine sipped by itself, but it is not sweet enough to stand with really sweet desserts. $19
A Blooming Hill Vineyard with some nice videos. You will get a flavor of the operation.