Deep ruby-purple color; blackberry, mocha, black cherry, raspberry on the nose; massive ripe dark and red fruits, black cherry, plum, licorice, caramel, mocha, vanilla, oak on the palate.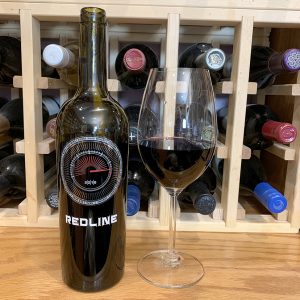 Dry; jammy, voluptuously fruit forward. Chewy tannins, some balancing acidity. Very full, lush in the mouth. Blend of 43% cabernet sauvignon, 29% zinfandel, 12% syrah, 10% petite sirah, 6% malbec; 78% from Sonoma, 28% from Napa; 14.8% ABV. This was not filtered—a move to intensify flavor—so there was significant sediment. That is not a bad thing, but something to account for when pouring.
Aged a year in French oak, 75% new. Sometimes touted as a Caymus-style wine you can afford. Well, it certainly strives in the jammy, very ripe fruit, plenty of wood world. There are wine drinkers who adore this style. There are wine drinkers who think this is the tragic result of the "Parkerization" of wine. Fortunately, I can enjoy this while, at the same time, prefer less jammy, fruit-and-oak assertive reds. There are lots of wines and styles in the wine world, and you are permitted to enjoy as many of them as you wish.
Adobe Road is a Petaluma-based winery using grapes from "carefully selected" vineyards, which means they are a negotiant operation. They handicraft small lots with minimal intervention that includes fermentation with native yeasts. The winery was created by race car driver Kevin Buckler as an extension of his racing car team. Thus the names of his four ultra-premium wines. Other offerings in the "Racing Series" include Apex, Shift, and The 24.
The winery thinks in car racing terms, befitting the owner. The website notes Buckler scored: "100 professional victories around the world including the 24 Hours of Le Mans and the Rolex 24 at Daytona (4 times). Then, in 2002, he and his wife, Debra, started a small boutique winery called Adobe Road, built on many of the same principles that made them successful in racing: pushing limits, a drive for perfection, focus, attention to detail, and teamwork."
The website continues: "There isn't always a need for speed. The winery is specifically designed to allow Kevin and his world-class winemaking team to spend time with each lot. Carefully monitoring each barrel, taking the time to make the right decisions, time to fully understand and manage the variables that go into crafting the perfect wines. You take one look at the winery—with its pristine state-of-the-art winemaking equipment and shiny, spotless floors—and you know there is a desire to make the best."
Adobe Road RedLine Red Wine Blend 2016 is mammothly fruit-forward, an archetypal Sonoma-Napa red. The brand name refers to pushing a race car to the maximum the engine can achieve without blowing up. Makes sense. This wine does not blow up, but it does push the limits. Pair with ribeye steak; rich red meats in general; beef stew; lamb; aged cheeses. You can also enjoy by itself when you and friends just want to knock back some wine. $35-40