Pale gold color; tangerine, ginger, intense flowers on the nose; lychee, ginger, pear, mango, orange marmalade, peach on the palate.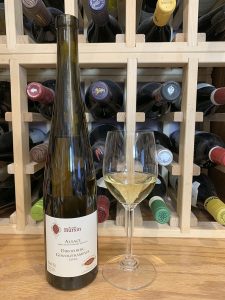 This lands at the sweeter edge of off-dry with honey-like sweetness (30 g/L residual sugar). Some balancing acidity (4.59 g/L TA). Complex and precise with concentrated ripe fruit flavors. Fermented using natural yeasts. Vinified and aged in stainless steel to preserve the delicious fruit flavors. 13% ABV
Agathe Bursin comes from a family of winemakers. When she was a child, her grandmother let her smell wine to determine if it was dominated by "fleure" [flowers] or "fruit." Grandmom also made her close her eyes and guess what was put into her mouth—welcome to blind tasting.
Agathe's maternal grandparents were vineyard owners who were part of one of the local wine co-ops who had four children, two boys and two girls, and it was commonplace to leave vineyards to the male children. But Agathe said her grandparents were ahead of their time and they said, "Four children four parts" when it came to the inheritance of their vineyards. Agathe's mother had no interest in maintaining vineyards so she allowed one of her brothers to work her plots until Agathe told her that she wanted to become a winemaker and so her mother gave her the plots, seven acres in 2000 and eventually she would grow it to 17 acres—all farmed organically and some vineyards being quite steep.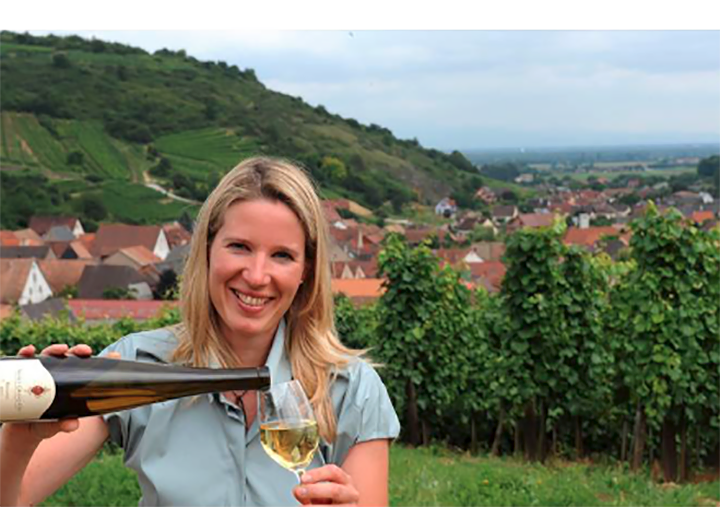 Of Agathe's vineyard holdings, the website notes: "Located in the commune of Westhalten, about fifteen kilometers [9 miles] to the south of Colmar, three famous hills of calcareous formation, Zinnkoepflé, Strangenberg, and Bollenberg, form a crown around the village. Westhalten is famous for its Mediterranean-like microclimate. Indeed, this area is among the driest areas of France (500 mm [20 inches] of precipitation per annum), because it is protected by the two highest summits in the Vosges, le Grand-Ballon and le Petit-Ballon. This feeble rainfall over ancient limestone soils (along with fossilized anemones and oyster shells) creates one of Alsace most unique terroirs."
Agathe's efforts attract a cult following and often sell out before release, thanks to the nature of her relatively small estate. She has been hailed as one of Alsace's "comets in the sky". She works her terroir "by hand and by heart" using organic principles and herbal and biodynamic preparations.
Agathe Bursin Dirstelberg Gewürztraminer Alsace 2016 delivers plenty of ripe fruit and sweetness, pushing the boundaries of off-dry. That bodes well for pairing with spicy foods, especially Asian cuisine, but can be too sweet for other pairings and palates. Bright and rich in the mouth. Will work nicely as an after-dinner wine. Pair with duck à l'organge; figs; raw or cooked tomatoes; spicy foods, especially Asian cuisine; rich fish—blackened salmon; poultry with spicy sauce; mild and soft cheese; fruit compote. $20-25