Almost black color; chocolate, black cherry, raspberry, strawberry on vivid nose; black fruits, chocolate, orange zest, raspberry on the palate.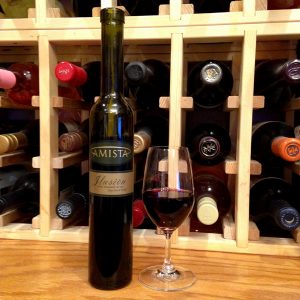 Sweet desert wine (6.5% residual sugar); soft, lush tannins with balancing acidity (3.64 pH). Port-style blend of 50% syrah, 50% zinfandel from Dry Creek Valley, Healdsburg, the heart of Sonoma; 18% ABV. Syrah and zin fermented separately; when each reached 6.5% sugar level, brandy was added to stop fermentation and leave a balance of sugar, acidity, tannin, acid, and boost the ABV. This is almost all fruit, very little oak.
Harvested in 2010, bottled in March 2012. Not overpoweringly sweet, not as robust as port, extraordinarily smooth, certainly can be pleasing end to a fine meal, especially if you enjoy chocolate nuances in your wine.
Amista roughly means "making friends" in Spanish. Winery website explains: "Our friends were with us when we made our first wine, said good-bye to our first vineyard and first set eyes on this beautiful property in Dry Creek Valley. They have always been here to cheer us on, help us through the challenges and celebrate wine country living. Second, we chose a Spanish name for our winery in honor of those who originally settled this area.  In fact, our vineyard straddles the boundaries of two former land grants, Rancho Tzabaco and Rancho Sotoyome. And third, we chose it simply because it begins with an "A", putting it at the top of every list!"
Amista Vineyards Ilusión NV is delicious red desert wine. Sweet, but by no means cloyingly sweet. A refined and elegant end to a meal. You really don't pair this wine with anything but memories of a great meal with good friends, reminisces, and bonhomie. The discrete sweetness and 18% ABV adds warm glow to the denouement of a wonderful evening. $24-28 (375 ml)