Strikingly beautiful dark rosé-red color; cherry, red fruit, green apple on the nose; red fruits, strawberry, raspberry on the palate, creamy with nice acidity and green apple tartness on the finish.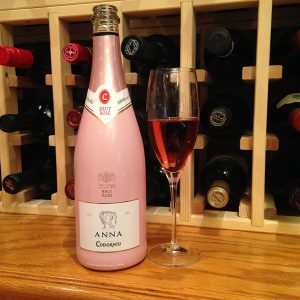 Brut with only suggestion of sweetness, and that likely comes from the strawberry-cherry fruitiness; at a residual sugar level of 11 g/l, this is on the border between brut and off-dry, but the tartness pushes aside the tingle of sweetness on my palate. Classic blend of 70% pinot noir, 30% chardonnay made using méthode traditionnelle—fermentation in the bottle. Persistent, tiny bubbles.
The Anna de Codorníu story begins in 1551 with Jaume Codorníu, who owned grape presses and barrels and kegs for winemaking, according to a document from the period. In 1659, Anna Codorníu and Miquel Raventós married, bringing two Spanish wine making families together and began the establishment of the Codorníu brand.
In 1872, Josep Raventós visited Champagne and returned to begin making sparkling wine—cava—using the traditional method and grapes. Anna de Codorníu as a sparkling wine brand and label started in 1983, with the first efforts focused on the delicate freshness possible with chardonnay grapes. Anna Rosé production began in 2007 and Anna de Codorníu Brut Rosé in 2014.
Anna de Codorníu Brut Rosé will pour very well as an aperitif, its signature red color adding to the festive nature bubbly always brings. This is no semi-sweet, bubble gum wine; its sharp tartness and acidity could put off some while thrilling others who enjoy cava that makes a statement. Wonderful price, enchanting color. $15
Second photo: Anna de Codorníu cellar