Deep purple color; plum, blackberry, black cherry, menthol on the nose; black plum, blackberry, anise, licorice, tobacco, chocolate on the palate.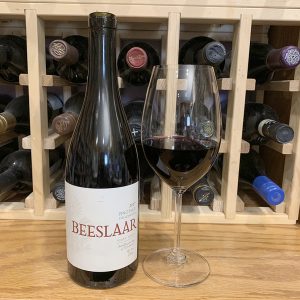 Dry; rich, ripe flavors. Good acidity (3.5 pH) and notes of minerality. Balanced, smooth, rounded, concentrated. Medium tannins. Fermented in concrete, matured 20 months in French oak, only 30% new so oak does not dominate. This receives generous, deserved praise from wine critics. Jamie Goode: "it's the Grand Cru Burgundy of Pinotages: structured, fresh, complex, ageworthy and elegant, despite its obvious concentration." 14.5% ABV.
Abrie Beeslaar is a long-esteemed winemaker at Kanokop. Beeslaar is his own label, founded in 2011. The Beeslaar property is just over a mile from Kanonkop, so Beeslaar is intimately familiar with his terroir. It is owned and run by Abrie and his wife, Jeanne. Beeslaar has less oak and lower price than the Kanokop effort.
Pinotage is South Africa's national grape. It is a cross between pinot noir and cinsault created in the 1925 at the University of Stellenbosch. This wine comes from Stellenbosch, a region in the Western Cape of South Africa, east of Cape Town.
Pinotage retains pinot noir's penchant to be petulant, so it easily can get out of hand. It is the little girl with the curl—when it is good, it can be very good. But when it is bad, it is horrid. This is not horrid.
Most very good pinotage gets consumed in South Africa and never makes it to U.S. shore stores. Some of this, thankfully, does thanks to quality importers Michael and Bartholomew Broadbent. It is more muscular and assertive than pinot noir, but you can still sense the pinot parentage. Cinsault adds softness and bouquet. Quality pinotage—and this is a quality pinotage—is like a body builder in a well-tailored tuxedo.
Beeslaar Pinotage, Stellenbosch 2017 is superb expression of the unique South African pinotage grape. Ripe, delicious, with an element of swagger. Very concentrated flavors. Pinotage is its own, distinct wine, and superb when done well. Beeslaar does pinotage well, and this is worth finding and tasting. Pair with rich, red meats; barbecue; roasted meats; sausage; pulled pork; chili con carne; lamb; grilled portabello mushrooms; dark leafy greens. $46-54