Deep ruby color; blueberry, plum on the nose; blackberry, plum, blueberry, chocolate, black pepper, tea on the palate.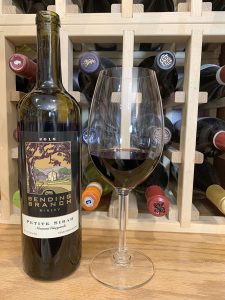 Dry; medium, satiny tannins with balancing acidity (3.86 pH). Very satisfying drinker for fans of bigger red wines. At the same time, this has an elegance and sophistication that you do not typically expect from a petite sirah. Bending Branch consistently does well with grapes others find hard to put in harness—tannat and petite sirah are examples. Plenty of oak helps pull this together and smooths it out—32 months in American and French oak. 13.7% ABV
The winery is near Comfort, Texas. The grapes are grown on the Texas High Plains. That is how it typically works in Texas. Newsom Vineyards, located near Plains, Texas, about 70 miles southwest of Lubbock, began with two acres of cabernet sauvignon in the spring of 1986. Today, the Newsoms grow 19 varieties on more than 150 acres and supply fruit to more than 10 Texas wineries.
At first blush, the Texas High Plains seems an unlikely quality grape growing region. The popular image of Texas is scorching hot, dusty plains and cattle. The vast High Plains, however, is a cotton and grain breadbasket. Grapevines love the red, sandy loam soil. The vines especially flourish in the diurnal shift. The area, which includes much of western Texas north and west of the Texas Colorado River, is called the "High Plains" because they are, indeed, high—3,000 to more than 4,000 feet above sea level. The elevation of Plains, TX where Newsome Vineyard is located is 3,642 feet. California vineyards brag about 1,000 feet. The result is hot days with plenty of sunlight to ripen grapes, but nighttime temperatures that can plunge 30 degrees and more and preserve acidity. That is a formula for quality wine around the world.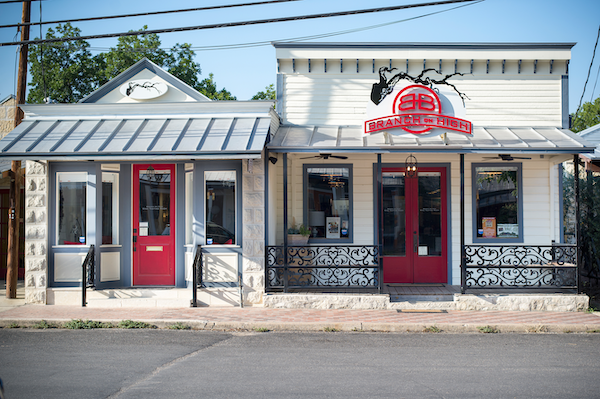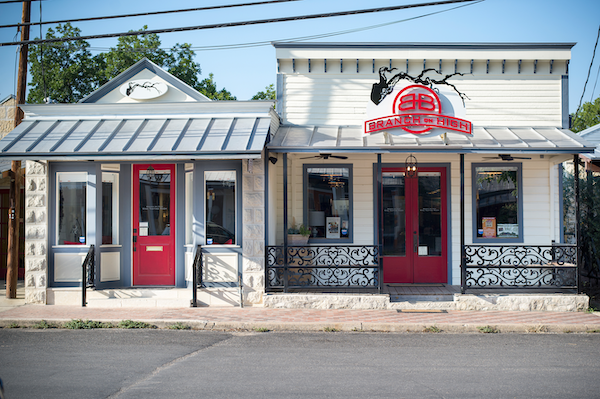 The Bending Branch Winery is located in the Texas Hill Country AVA. Dr. Robert W. Young is the owner and winemaker. He focuses on intense wine experiences. The winery concentrates on Texas grapes, particularly ones that have proved successful in Texas: picpoul blanc, viognier, roussanne, tannat, malbec, tempranillo, and this petite sirah.
In addition to his medical degree and board certification in preventative medicine, "Dr. Bob" holds a winemaker certification from UC-Davis. Dr. Bob purchased Ursa Vineyards in California in 2014, and Greg Stokes and Deborah Elissagaray of Ursa are now part of the Bending Branch winemaking team.
The Bending Branch team does not hesitate to push the envelope. Dr. Bob happily asserts they are not making Old World wines or New World wines, they are making "Next World" wines. Their processes include cyro-maceration—a freezing technique to extract more color, flavor, and tannins from red grapes—and thermoflash—a technique of flash heating grapes to extract more color, tannins, and aromatic compounds. Both techniques can be used in conjunction with traditional methods.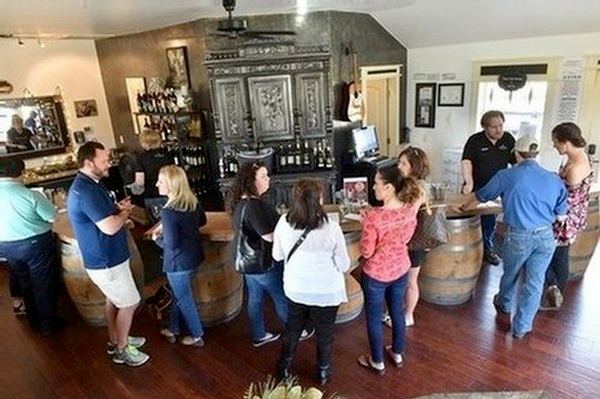 Bending Branch Winery Petite Sirah, Newsome Vineyards 2018 is bold and balanced, deep and rich. Bending Branch deftly manages to herd petite sirah's low acidity and high tannins and body into an impressively behaved libation. Consider it a cowboy all cleaned up and dressed in starched jeans, ML Leddy boots, and a tuxedo shirt, bow tie, and tuxedo jacket. It is another example from Bending Branch of how Texas makes serious wine, worthy of consideration for anyone's cellar.
Pair with grilled lamb; Texas beef; slow-cooked brisket; barbecue; chili; chicken with mole sauce; pork chops, pork barbecue or pulled pork; sausage; venison. Cheese—blue cheese, aged gouda, porchetta, cheddar. $38