Deep straw-gold color; melon, lemon, grapefruit, mango on the nose; grapefruit, nectarine, melon, peach on the palate.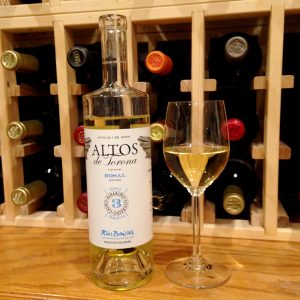 Maybe extra dry, it is hard to tell because the ripe fruit flavors hint at sweetness, but the nice crispness and my experience with albariño wines tell me this falls on the dry-extra dry border. Excellent nice, smooth roundness in the mouth. Very, very easy drinker.
Blend of 85% albariño, 10% caiño blanco, 5% loureira. The winery and vineyards are in the Rías Baixas DO in the Galicia region of northwestern Spain. Albariño is the dominant grape—across the Minho River in Portugal the grape is called alvarinho and is principal grape used in vinho verde wine. DO rules require at least 70% albariño grapes in order to be labeled Rías Baisas. The additional grapes in this effort contribute pleasing complexity and nuance.
The Rías Baixas name comes from the coastal inlets—rías—found in the DO. The DO's neighbors include Ribeiro to the east and Miño to the south in Portugal. The Atlantic Ocean heavily influences the climate of all three regions, from cooling breezes at night to often quite heavy rainfall—more than 70 inches a year—and Atlantic mists contribute more moisture and cooling. All three regions grow albariño-alvarinho grapes, and all three produce noteworthy white wines that are crisp, fresh, and aromatic. This wine comes from the O Rosal sub-region of Rías Baixes and is noteworthy for its terraced hillside vineyards overlooking the Miño River and Portugal's vinho verde region. Bodegas Altos de Torona's vineyards are on the slopes of Mount Galelo, less than a mile from the Miño and six miles from the Atlantic Ocean.
Bodegas Altos de Torona Rosal White Wine 2016 is an extremely tasty easy drinker with excellent ripe fruit in distinctive bottle. Delicious and crisp enough to serve as an aperitif. Will pair with seafood, fish, grilled white meats, and will work nicely as a solo sipper, especially when well chilled and enjoyed outdoors on a warm-hot day. $13-15
Rías Baixas website with Bodegas Altos de Torona page
Bodegas Altos de Torona website (translation needed)