Deep ruby color; blackberry, black fruit, tobacco, spice on the nose; black fruits, blueberry, plum, black cherry, strawberry, tobacco, cedar, oak spice, milk chocolate on the palate.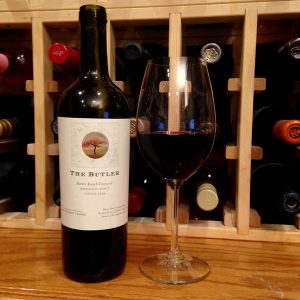 Dry; significant, muscular, tasty tannins—decanting recommended; balancing acidity (3.77 pH); blackcurrant tang in the mid-palate and finish. Blend of 80% syrah, 8% mourvedre, 6% grenache, 6% zinfandel; 15.2% ABV. Fermented in stainless steel, then finished for two years in French oak, 60% new barrels.
This is Rhône-style wine with a Bonterra/Napa twist—GSM grapes, but syrah plays the big lead role, and then there is some zinfandel for color and pinch of pepper. Fruit forward with touches of licorice, smoke, and minerals on the finish, seemingly more significant with second glass. Full in the mouth.
The "The Butler" name does not come from a household service position, but from the single source of this wine, Butler Ranch Vineyards, which climbs from foothills to 2,200 feet, providing climate variations and aiding in the development of the rich fruit and acidity.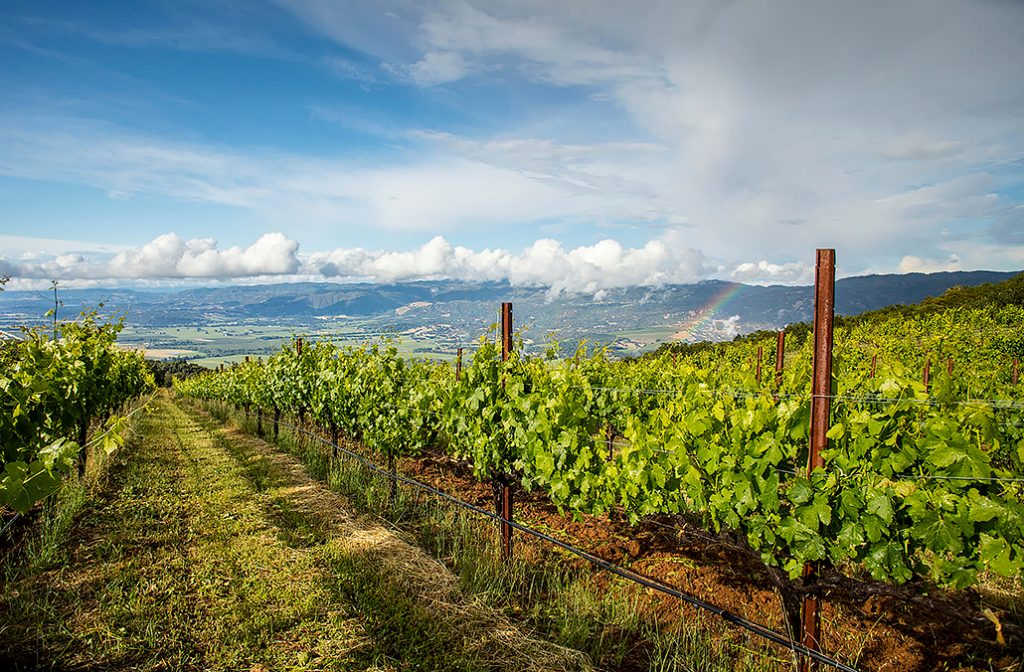 Bonterra is a label of Chilean wine giant Concha y Toro, acquired in 2011 when they spent $238 million to purchase Brown-Forman, best known for Fetzer Vineyard but also owner of Bonterra. Bonterra admirably focuses on organic and sustainable agriculture. "We plant native flowers around our grapes to attract beneficial bugs, and welcome songbirds and chickens into our vineyards to eat up the pests," they announce. "We even employ sheep to mow between the vines. In our vineyards, every living thing is connected and we all work together to create pure, flavorful wine."
Bonterra not only commits to organic and sustainable, they also go the extra mile into biodynamic farming, sometimes called voodoo viticulture, but—regardless of the put-down—biodynamic consistently produces quality wine. The Bonterra website explains: "systems function together to create a single living organism: the farm as a whole. We farm our Biodynamic ranches striving to achieve this ideal with as few external inputs as possible. Biodynamic farming is a holistic view of agriculture with high awareness of the interconnectivity between earth, plants, animals, humans, the moon and planets."
Click on the link to the Bonterra website to get a more complete appreciation of Bonterra and its commitment to biodynamic farming practices.
Bonterra The Butler Single Vineyard Cuvée 2014 is a full-bore dinner wine best appreciated paired with rich meat dishes, barbecue. The astringent tannins will do wonders with meat fats, but prevent this from being a smooth, easy drinking wine when sipped without food. Pair with barbecue spareribs; barbecue pork; sirloin strip roast; grilled pepper steak; squash and zucchini linguine with goat cheese; sautéed chicken; Asian barbecued chicken; braised lamb with potatoes; hamburgers and sliders; braises and meat stews in general. $50-55
Video about Bonterra and organic/biodynamic farming
Video about Bonterra and organic/biodynamic farming
Video about Bonterra and organic/biodynamic farming