Pale straw color; almond, white apple on delicate nose; green apple, hint of honey, lime, with saline layer on mid-palate and finish.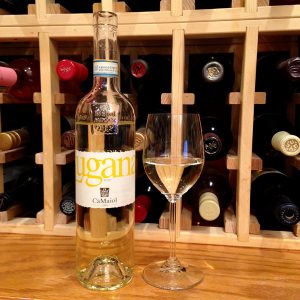 Dry; good tangy acidity; smooth; light body; 12.5% ABV. Struggles some to find character, but there is more than enough acidity and the beam of saline/minerality running through it to be good complement to food.
Made with trebbiano di lugana grapes, the trebbiano variety in the Lugana area of northern Italy around Lake Garda. Trebbiano, with all its place-name slight variations—trebbiano Toscano, trebbiano Romagnolo, trebbiano d'Abruzzo—is the most-planted white grape in Italy. It produces huge yields, more than 8,000 pounds per acre in Lugana. Typically, it yields wines that are light and crisp, but lacking in character. This one does better than average because of the intriguing saltiness factor.
Cà Maiol is a winery in the Benaco Bresciano IGP region in Lombardia (Lombardy) in Italy. The vineyards stretch from the southern shore of Lake Garda to the Morainic Hills. This Valtènesi zone provides long hot summers, short mild winters, and delicate breezes off the lake that caress the vineyards.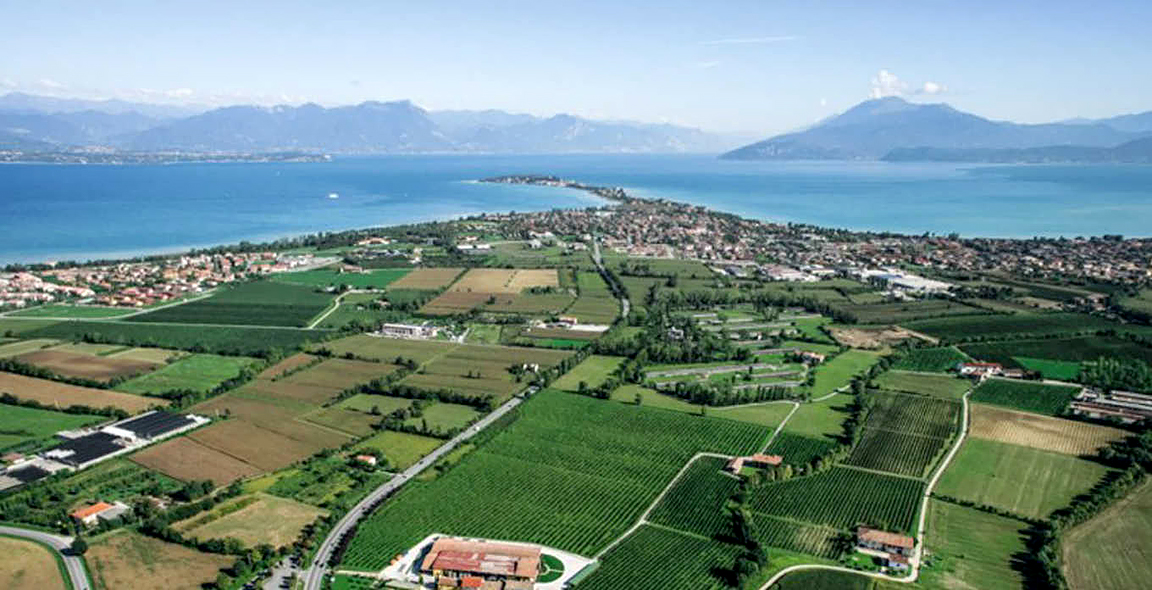 Cà Maiol is imported into the US by the Santa Margherita Wine Group. According to their website: "Founded in 1935, Santa Margherita, the flagship brand, has been contributing to the international success of premium quality Italian wine for more than 80 years. This success has deep roots and strong bonds, backed by an approach mapped out by Santa Margherita's founder, Count Gaetano Marzotto. In 2014, the Marzotto family realized their own American dream of developing and expanding their wine portfolio with the establishment of Santa Margherita USA, their wholly-owned United States import company."
The website further explains: "We like to think of ourselves as not just a wine group, but also a 'wine mosaic' whose tiles are situated in Italy's finest production zones. After expanding our presence in the Veneto with Torresella in the early 1980's, we welcomed Alto Adige-based Kettmeir, now approaching its centenary year. Tuscany followed in 1993 with Lamole di Lamole in Chianti Classico. In 2000, we founded Sassoregale in the Maremma region of Tuscany, known for expressive, full-bodied bottlings. The same year, we acquired a vineyard in Sicily and saw the region's winemaking potential, and established Feudo Zirtari in the province of Agrigento. The last tile in our mosaic brings us back to the Veneto, in the heart of the Conegliano-Valdobbiadene DOCG. Since 2010, thirty acres of hillside vineyards reinforce Santa Margherita's outpost in the historical homeland of Prosecco, where, as far back as 1952, we played an important role in the region's inception."
Cà Maiol Lugana DOP White Wine 2017 is food-friendly white with an elevating beam of acidity/minerality. You may not be familiar with the trebbiano di lugana grape, but it is the most-planted white grape in Italy. It takes skill to tame trebbiano di lugana grapes to produce quality wine rather than oceans of feckless grape juice. Cà Maiol largely pulls this skill trick off. Certainly this is worth a try. As noted, this is food-friendly; pair with shellfish; slightly fatty boiled or sauteed fish; sashimi; as a condiment in pasta or risotto; baked chicken breast; garden salads. $14-15
CaMaiol website, very nice landing page video
Santa Margherita Wine Group USA website