Deep purple color; plum, black cherry on the nose; blackberry, strawberry, plum, cherry jam on the palate.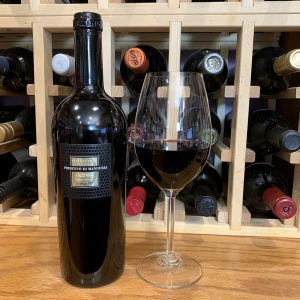 Dry; very vivid primitivo fruit—primitivo di manduria is genetically equivalent to zinfandel. This is very intense expression of primitivo/zinfandel. Emphasis comes from the fruit comes from 60-year-old-plus vines. Maceration extends to 18 days for 80% of the mass, while the remainder remains on the skins, seeds, and stems for another week. The winery set out to make a very powerful, extracted, robust, dark red wine, and it certainly succeeded.
Following maceration and thermo-controlled fermentation, the juice spend a year in French and American oak. There is oak in this profile, but it is deftly done. It would be hard for anything to compete with the massive primitivio, dark red wine assault. Expected reserved tannins. Delivers fruity power and softness at the same time, the enchanting legerdemain that makes primitivo/zinfandel so alluring.
Full bodied and very fruit forward—very—with notes of coffee, cocoa, and vanilla on the finish. While primitivo usually presents with significant tannins, this does not. There are tannins, but the ripe fruitiness overwhelms everything in its path. Exceptionally powerful, vivid wine.
If you lust for bold, assertive red wines, this wine is for you. I can easily see more timid sippers being overwhelmed (but in a good way). As often happens with primitivo/zin, this also delivers plenty of alcohol power—14.5% ABV. You may notice adjectives power and vivid sprinkled throughout this review. That's how this tasting goes. A secondary note—this comes in massive bottle, which implies gravitas to the wine but is unnecessary and carbon-reckless with manufacture and transportation. Superb, powerful wine in a bottle that sadly flaunts excess.
Primitivo di manduria is key wine of Puglia region of Italy, where this is produced. Taranto is the most-recognized city-port in the region in the eastern edge—heel—of the Italian boot.
Cantine-Feudi di San Marzano Sessantanni Primitivo di Manduria DOP 2015 is the florid, flavorful, massive expression of zin/primitivo in southeaster Italy. If you adore really big, old vine California zins, then you will passionately embrace this effort. Primitivo/zin is great pairing with rich fare: with this rich iteration, pair with heavy, robust dishes—barbecue, roast lamb, meat stews, hearty pasta, any rich red grilled meats. Burgers, lamb chops, grilled sausages, pork dishes also will work. $34
San Marzano website with charming videos
Photos: Sadly, good videos, no usable photos on the website.