Light yellow-straw color; lemon-lime, melon on the nose; citrusy, lemon-lime, melon, banana, white peach, grapefruit, fresh, lively flavors, minerality on the palate.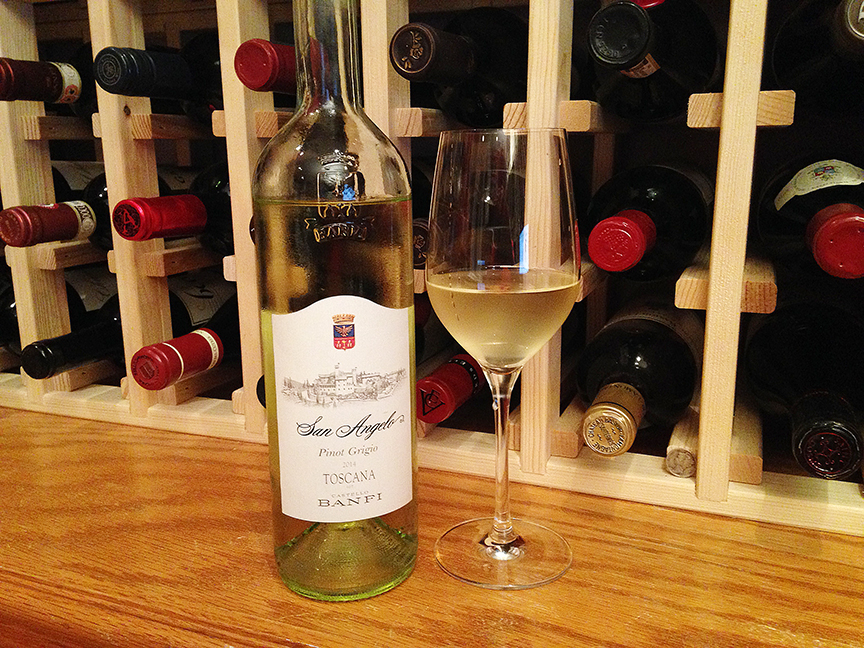 Nice acidity, no oak, medium-full body, rich, round with persistent finish. Pinot Grigio typically is associated with Lombardy, in northeastern Italy north of Venice, but this comes from Tuscany, where little more warmth produces more body and flavor than other pinot grigio offerings. It yearns to serve as an aperitif, also will work with fruits, light cheese, chicken and fish (as long as the sauces are light and refined, too).
Pinot grigio (pinot gris in France, same grape) likely is a mutation of pinot noir and gets its name from the pine cone shape of its bunches (pinot=pine) and the gray-blue color of the grapes (grigio/gris=gray). Pinot grigio/gris often is harvested early to retain refreshing acidity and hold it back from being overly fruity.
Italians aim for lighter body, crispness, and a refreshing taste. When done well, and San Angelo is done well, pinot grigio/gris can be delightful and should not be confused with bottom shelf and boxed wine pinot grigio/gris plonk that you may unfortunately have experienced.
Castello Banfi is a multi-generation family business; Cristina Mariani-May and her cousin James Mariani manage the business today. Cristina graduated from Georgetown University, then earned her masters from Columbia University's School of Business; under her leadership Banfi was the first winery in the world to earn international recognition for exceptional environmental, ethical and social responsibility.
James graduated from Colgate University and earned his masters in business administration at Cornell, so this may be a Italian family business, but they also understand America: smart people making smart wine. $18