Deep ruby color; plum, blackberry, toasted oak on the nose; fruit forward with expected garnacha strawberry, grilled plum, leather, even some pink grapefruit on the palate.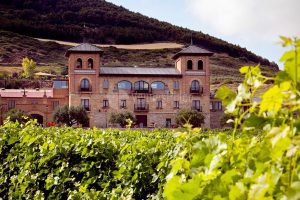 Dry; medium body; reserved, silky but noticeable tannins—maybe a cab contribution; brisk acidity. Punches in at 13.5% ABV, and that may be low-ball. Easy drinker with some semi-rough edges that evolve with exposure in large glass. Could benefit from decanting, but I'm judging purely from pop-and-pour because that is likely how most of my readers will experience.
The grapes come from a 20-acre vineyard composed of limestone and clay; bush training method; vines planted in 1936—so this wine sometimes is identified as "old vine". This could be a blend of 85% garnacha and 15% cabernet sauvignon; the website does not inform; some vintages are 100% grenacha, and this may be one of those; others are some sort of the 85-15 blend. Fermented in stainless steel, finished for six months in once-used French oak barriques, followed by six months of bottle aging before release.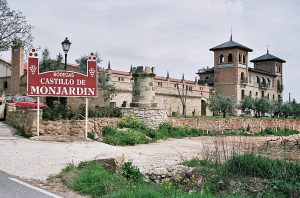 The winery website notes: "Castillo de Monjardin is located in the northwest of Navarra in the foothills of the Pyrenées, not far from the French border. Originally, the castle of Monjardin was very important for the Kingdom of Navarra during the XII century under the King Sancho Garces, today it's a famous pilgrimage route from Paris to Santiago de Campostella. The proximity and historic cultural links to France provide a winemaking tradition based on Chardonnay, Cabernet Sauvignon and Merlot, distinct from the rest of Spain. Monjardín makes good use of the Garnacha and Pinot Noir that are fresh and fruit forward reds."
There is the winery and the abandoned Castillo de Monjardin on a promontory overlooking the winery and vineyards. The castle (castillo) ruins are a tourist attraction and offer a splendid view of the vineyard plains below.
Castillo Monjardin Garnacha La Cantera 2017 is very serviceable garnacha-cab blend with emphasis on garnacha. Super value-for-price wine. This is basic Spanish table wine, but that is a welcomed feature, not a flaw. There are times when you just want a simple, casual, easy-to-drink wine that you can sip and enjoy without thinking about it too much. This wine fits that bill nicely. It also will make a superior second or third bottle at a big meal feast with friends. Pair with hearty stews; pork; paella; tapas; gazpacho; cheese trays and charcuterie; burgers and barbecue. $9-10
Interesting YouTube video of Castillo de Monjardin