Deep garnet-ruby color; raspberry, black cherry, strawberry on the nose; black cherry, raspberry, strawberry, plum, blueberry, caramel, white pepper on the palate.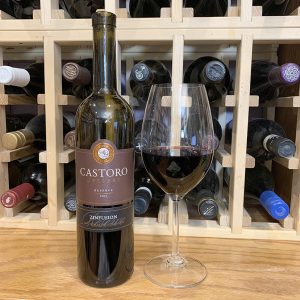 Dry; usual gentle tannins and acidity from zin. Zinfusion is only produced in higher quality vintages. The grapes come from a mixture of estate vineyards, all farmed organically and SIP (Sustainability in Practice) certified; many also are biodynamically farmed. Blend of 80% zinfandel, 15% petite sirah, 5% barbera. Very ripe fruits—producing 15.8% ABV, which what really ripe zin does.
Wine is nicely balanced and very true to what you anticipate from a ripe, juicy, Paso Robles zin. Medium body. Some complexity, but mostly hard-core, delicious zin fruit from initial attack through medium finish. The vivid fruit masks the expected high alcohol burn on the finish. Which means this is a delicious sipper that easily could slip up on you.
Niels and Bimmer Udsen established Castoro Cellars in 1983. Goal: produce world-class wines from Paso Robles. This crowd-pleaser is an example. The website notes: "Castoro's tast­ing room is in Tem­ple­ton off scenic High­way 46 West and the wine­mak­ing facil­i­ty is locat­ed on the East Side of Paso Rob­les in San Miguel. Both facil­i­ties opened in 1990.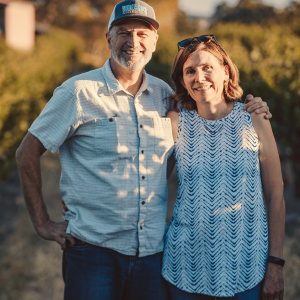 "With the help of Niels' men­tor and Cas­toro Cellar's wine­mak­er, Tom Myers, the Udsen's have gone from mak­ing a few bar­rels of wine for fam­i­ly and friends in a rent­ed cor­ner of some­one else's win­ery to devel­op­ing a cus­tom-crush oper­a­tion and a 30–40k case enter­prise for Cas­toro Cellars."
Tom Myers is the winemaker. David Sailer and Jamie Malesza are the assistant winemakers. They work with exclusively estate-grown grapes. All the vineyards are in the Paso Robles AVA, arguably the ascendant AVA in California, striving to run with the big dogs of Napa and Sonoma.
Castoro Cellars Zinfusion Reserve, Paso Robles 2015 is a classically rich, juicy-fruity, high alcohol, fun to drink, delicious Paso Robles zinfandel. Noticeably smoother and more approachable than some, so no need to decant, just pop and pour and enjoy deliciousness. Pair with rich pasta dishes with red sauces; pizza; meatloaf; gourmet burgers and sliders; comfort food in general. Easily works as a solo sipper, but don't attempt to drive after doing so. $22-24
Castoro website with nice landing page video, plus many more videos