Pale straw color; green apple, bread yeast, minerality on the nose; yellow and green apples, pineapple, lemon, minerals on the palate.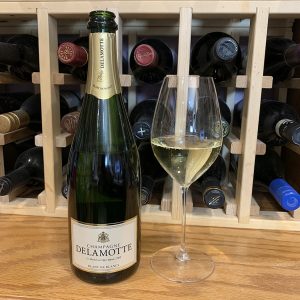 Brut; very pure flavors—100% chardonnay. All vinification in stainless steel. Delamotte's chardonnay vine blocks grow in pure chalk soils, and the chalky sensation and minerality are fundamental characteristics of this effort. Acknowledging that such terroir can produce austere wines, Delamotte allows the wine to mature on the lees for up to five years. The statutory minimum is 15 months.
Delamotte's decisions mitigate the austerity and emphasize the bread yeast on the nose. They also generate elegance and finesse. Medium body. Vigorous, chalky mousse. Vibrant acidity. Hint of salinity on the extended finish. This is a top Champagne house that knows how to deliver richness, concentration, a purity of fruit; 12% ABV.
Delamotte was founded in 1760 by François Delamotte, making it the fifth-oldest houses in Champagne. Relatively small scale for Champagne, it is located in the heart of the Côte des Blancs in Mesnil-sur-Oger, a location legendary for chardonnay. Laurent-Perrier acquired the house in 1988. That made it is the "sister house" to the also acclaimed Champagne Salon in the same village, and Delamotte became sometimes regarded as Salon's "second wine." This does not do Delamotte justice. Both Delamotte and Salon are masters of chardonnay-based bubbly.
Delamotte proclaims its mission is to produce wines with bold simplicity. The focus on freshness and character, and for wines that can be enjoyed "just for the pleasure of it." Their motto is "vive et me ama" (live and love me). This bottle accomplishes their goal of the past three centuries. It is one wine lovers should experience at least once in their wine lives. And after if you do, don't be surprised when you come back for more.
Champagne Delamotte Blanc de Blancs NV is precise wine that also has charming qualities. Finesse with solid beam of apple and citrus from initial attack to extended finish. Excellent acidity, tangy notes of citrus, and the pureness of the fruit augurs an outstanding wine to pair with a sweep of foods. Works as aperitif, but this extremely versatile blanc de blancs will pair with everything from oysters (the classic pairing); grilled fish; lobster; fried chicken and fried fish; fish tacos; triple-cream cheese; lobster. $65-90