Medium copper color; strawberry, redcurrant, orange peel, brioche, white flowers, roses on the nose; strawberry, redcurrant, white cherry, bread yeast, minerality on the palate.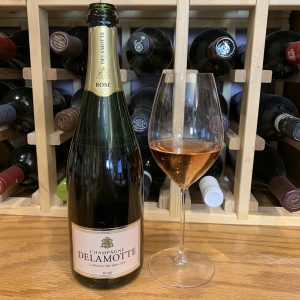 Brut; made with non-traditional bleed (saignée) method. Saignée provides elegance and structure; an amount of free run juice is bled off dark skin grapes very soon after crushing. Blend of 80% grand cru pinot noir grown on the south-east face of hillsides of the Montagne de Reims: Ambonnay, Bouzy and Tours-sur-Marne. The 20% chardonnay comes from Mesnil-sur-Oger. The wine spends three years on the lees before disgorgement.
Medium-full body. Soft, gently caresses your mouth, abetted by persistent mousse. Bright, sophisticated, understated, elegant presentation. Balanced. Charming. Fruit-forward. Good acidity. Nice tangy qualities in the mid-palate and through the finish. Long, slightly chalky finish; 12% ABV.
Delamotte was founded in 1760 by François Delamotte, making it the fifth-oldest house in Champagne. Relatively small scale for Champagne, it is located in the heart of the Côte des Blancs in Mesnil-sur-Oger, a location legendary for chardonnay. Laurent-Perrier acquired the house in 1988. That made it is the "sister house" to the also acclaimed Champagne Salon in the same village. Delamotte became sometimes regarded as Salon's "second wine." This does not do Delamotte justice. Both Delamotte and Salon are masters of bubbly. Laurent-Perrier is the third-largest Champagne house in the world.
Delamotte proclaims its mission is to produce wines with bold simplicity. The focus on freshness and character, and for wines that can be enjoyed "just for the pleasure of it." Their motto is "vive et me ama" (live and love me). This bottle accomplishes their goal of the past three centuries. It is one wine lovers should experience at least once in their wine lives. And after if you do, don't be surprised when you come back for more.
Champagne Delamotte Rosé NV is fruit-forward, elegant, sophisticated. Serves well as a toasting wine, aperitif, solo just for the fun of sipping superb bubbly. Pairs with usual huge range of foods thanks to its excellent acidity and restrained ABV. Grilled salmon; lobster; seafood—tuna, cod, sea bass, shellfish; white turkey meat; beef stew with root vegetables; braised lamb; pork; Parma ham; rabbit and other gamey meat dishes; mild and soft cheese. $65-90