Medium purple color; blueberry, spice on the nose; blueberry, ripe plum, blackberry jam, meat, tobacco on the palate.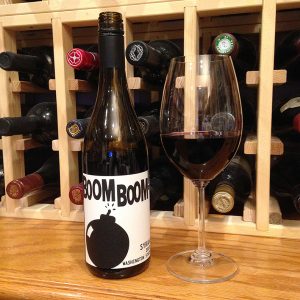 Off dry; medium body; reserved tannins and acidity (3.89 pH). I reviewed this wine a year ago and returned to see what a year and a different bottle would do after a year in the wine fridge. Comparing notes, it is fruitier in this tasting, still has a delicate element to it, setting it apart from massive Aussie shiraz efforts; just 13.5% ABV, for instance. It again comes across as one-dimensional, but remains a fun, clean, mellow, easy drinker.
Blend of 96% syrah, 3% viognier, 1% grenache, a classic northern Rhône mix although heavier than standard on the syrah. The winery does not reveal the residual sugar on website or wine sheet, but my guess is this inches into the off dry world, slightly more residual sugar than dry. The expressive fruitiness contributes to the predilection to sweetness, which will be very appealing to many wine drinkers. It may not be my preferred choice, but it is one I can enjoy and appreciate its attractiveness to others. Besides, who am I to question Charles Smith?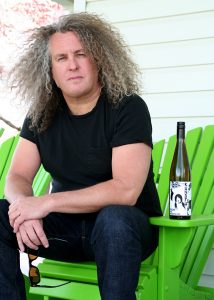 Winemaker Charles Smith is a self-taught wine wunderkind. He started Charles Smith Wines in 2006 with the intent to create wines that would be enjoyed now, soon after release, and that also were true to the varietal grape and the vineyard, and particularly targets millennials in its marketing. Boom Boom! certainly hits that bullseye.
Wine & Spirits named Smith's K Vintners "Best New Wineries of the Last Ten Years" in 2008 and as "Winery of the Year." Food & Wine named Smith "Winemaker of the Year" in 2009. Seattle Magazine named Smith "Winemaker of the Year" in 2010. Wine Enthusiast named Smith "Winemaker of the Year" in 2014. Whew. That is a lot of big-time baubles to accumulate early and quickly in a career. In late 2016, after this wine was made, Smith cashed in by selling his brands for $120 million to Constellation Brands, the world's largest winemaker. Smith remains as a consultant, and retained ownership of K Vintners. Neither Smith nor Constellation can ever be accused of not knowing how to pleasure people's palates.
In addition to Charles Smith Wines, other Smith-founded brands include Sixto, Charles & Charles, Vino, Wines of Substance, Secco Italian Bubbles, and Casasmith. Google K Vintners for link to a neat opening video with Charles Smith laying out his mission. Three tasting rooms demonstrate Smith's Washington embrace: Charles Smith Wines Jet City is located next to main runway of Boeing Field in Seattle, Downtown Walla Walla is located in converted auto-repair warehouse and invites sidewalk seating in Walla Walla, K Vintners Tasting Room is located at the base of the Blue Mountains on historic farmland homesteaded in 1853 and adjacent to a farmhouse built in 1872.
Charles Smith Wines Boom Boom! Syrah, Washington State 2015 is simple, straightforward, fruity, mellow, smooth, easy drinker. Pair with rich meat stews, lamb, slow-roasted pork tenderloin, pizza, hamburgers and sliders, barbecue, various comfort foods where the fruity sweetness and simplicity will fit in well with the simple cuisine. $15-17