Deep ruby color; blackberry, plum, black cherry, meat, violets, sage on the nose; black cherry, blueberry, black plum, blackcurrant, vanilla, chocolate on the palate.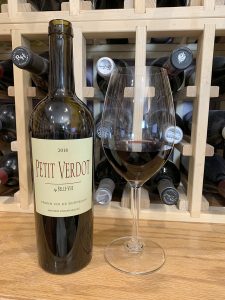 Dry; silky but very firm tannins—decant. Medium-plus acidity (3.70 pH). Dark, dense, rich, bold. Medium body. Hints of earthiness and rusticity, especially early in the glass even after decanting, but only hints, not shouts. In spite of its lusty, muscular elements, the wine drinks smooth in the mouth. That is petit verdot's bewitching trait. The wine spent 14 months in Austrian oak. While there is oak influence, it is by no means a dominant element of the overall experience. 14.5% ABV
Petit Verdot is a rising grape in Bordeaux thanks to global warming. It was always part of the Bordeaux blending palette, but it is slow to ripen so there were years when it did not make it. Now, with warmer and longer seasons it is much more dependable—as this bottling of 100% petit verdot attests. The winery devotes 20% of its 37 acres to petit verdot, historically a very large commitment. Vincent Mulliez acquired Château Belle-Vue in 2004. It is located on the left bank of Bordeaux, only a few miles away from Margaux. The Mulliez family has made a 100% petit verdot since 2016.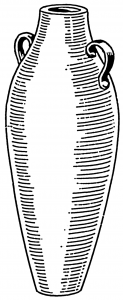 The making of this wine is interesting. The wine matures in Italian terracotta amphora to preserve freshness and in Austrian oak to enhance petit verdot's aromatic structure. The wine aged 14 months; 15% in the amphora, 20% in 400-liter new barrels, 25% in second-fill, 40% in third fill. The vines for the plot that produced the grapes were planted in 1939, 1949, and 1958. Their average age is 79 years.
Château Belle-Vue Petit Verdot by Belle-Vue Grand Vin de Bordeaux 2018 flaunts the qualities of petit verdot—density, boldness, assertive character paired with smooth mouthfeel. Often used as a blending grape to stiffen up and embolden blends, this is a rare 100% petit verdot. While not for the faint of palate, those who enjoy robust and formidable red wine experiences will find much to appreciate in this nontraditional use of a storied Bordeaux blending grape. Pair with rich grilled steaks; roasted meats; beef stew; meat-lover pizza; mushroom burger; Philly cheesesteak; roast lamb; Cuban-style pork; wild game—venison; aged gouda, hard aged cheese. $25
Château Belle-Vue video on Facebook