Deep ruby-black color; dark fruits—prune, plum, raspberry jam, pear brandy on the nose; black cherry, plum, chocolate, dark fruits on the palate.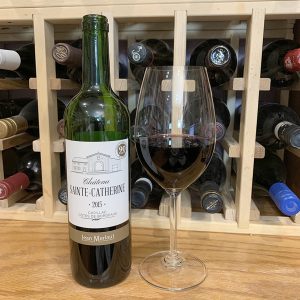 Dry; full body; classic elements of right bank, clay soil Bordeaux. Blend of 70% merlot, 15% cabernet sauvignon, 15% cabernet franc from the excellent 2015 vintage in Bordeaux. Dense tannins complement the solid dark fruits, very interesting in a merlot-forward wine. Impressive concentration at this price point—$12-13. Simple wine, but possesses attractive bells and whistles.
Clean with tasty tannins and abetting acidity. Full malolactic fermentation at constant temperature. Aged using oak staves rather than in barrel, which is one way they achieve this impressive merlot-led Bordeaux blend at this price point. This shines in mid-palate, then falls off a bit on a medium finish, but—hey—reflect again on the quality-price ratio (QPR). Benefits somewhat from air, but also works as pop and pour at weekday impromptu gathering; 13% ABV.
There is more to wine than blow-away sophistication. Yes, blow-away sophistication is good, actually can be very good, but so is a wine you can easily afford and enjoy. This checks that box. Plus, how often do you drink wine with "Cadillac" on the label? Don't over-think this to fully appreciate what it delivers.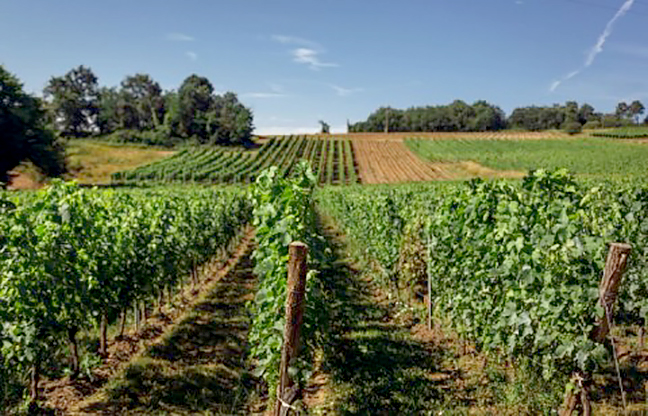 The 12th century priory of Sainte-Catherine of Artolie once was upstream from the winery. The 138-acre vineyard presents panoramic views of the Garonne valley and the Landes forests. Jean Mertlaut acquired the property in 2013. A Bordeaux visionary, Merlaut also manages Château Dudon Malagar, a Saint-Julien 2nd Grand Cru Classé.
Château Sainte-Catherine Côtes de Bordeaux AOC Cadillac 2015 punches above its weight as a Bordeaux blend. You don't get impressive complexity and depth at its price point, but that is not the point here. You get a very drinkable wine at an attractive price. Pair with red meats; burgers and sliders; pastas with red sauces; pizza; comfort food in general; plus just sipping while surfing internet or cable box. Hey, a key asset of wine if "let's have some tasty fun." This delivers on that. $12-13
Château Sainte-Catherine website