Light gold color; lemon, nectarine, flowers on the nose; citrus, yellow apple, lemon-lime, pear, minerality on the palate.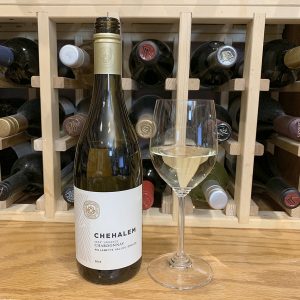 Dry; light body; vibrant fruit; excellent acidity (3.278 pH). Clean, tart, refreshing. Drinks more like a Chablis or a sauvignon blanc than a California chardonnay; 12.9% ABV. With a little air exposure in glass, the wine becomes creamier with a hint of honey on the finish.
The Inox name comes from French "inoxydable"—stainless steel. This wine is made completely in stainless steel, seeing no oak at any time during the process. Chehalem is the Calapooia Indian word for "valley of flowers." Grapes sourced from two of Chehalem estate vineyards in the Willamette Valley of Oregon.
This is the first Chehalem vintage under new lead winemaker Katie Santora, although she worked as the assistant winemaker at Chehalem since 2012. Santora earned her degree at UC Davis majoring in enology and viticulture. Her philosophy is minimal processing, allowing the fruit to speak for itself.
The vineyard/winery started in 1980 when the Peterson-Nedrys family purchased the property and planted pinot noir and chardonnay grapes. The Howieson family planted the first grapes in the Corral Creek area in 1983. In 1990, Chehalem harvested the first grapes at Ridgecrest. In 1993, Bill Stoller purchased his family's estate in Dayton and joined Chehalem.
Bill Stoller then embarked on a noteworthy career in the region, gaining complete control of Chelalem in 2018 by purchasing Henry Peterson-Nedry's interest following a 24-year partnership with Peterson-Nedry. Stoller comments on the website: "Harry Peterson-Nedry has been a mentor to me," said Stoller. "When Harry first asked me to be an investor, I saw an opportunity to help fund a friend's dream and the chance to be a part of something with the potential to be iconic. As we enter this next chapter, I am honored to shepherd CHEHALEM's legacy."
"No one understands more how special the CHEHALEM brand is, how much passion and rigorous work it has taken, how much collaboration with other Willamette Valley pioneering wineries has gone on, than Bill," said Peterson-Nedry. "I take comfort knowing he will respect its heritage in a way that no one else could.".
Stoller is the founder and CEO of The Stoller Group, also the president and vice-chairman of Express Employment Professionals, and founder and CEO at Xenium HR & Employer Services. A native Oregonian, Stoller holds a bachelor's degree in Business and Economics from Pacific University, and an MBA from Portland State University.
Chehalem Inox Unoaked Chardonnay 2018 showcases chardonnay fruit without letting oak and butter get in the way. Nicely tart and flavorful. This wine was made to pair with fish and seafood; butter-poached Chilean sea bass; lightly cooked crab or prawns; grilled or steamed fish; fish pâtés; chicken or vegetable terrines; creamy vegetable soup. $18-20
Nice videos tell Chehalem story (scroll to the bottom of the page)