Medium ruby color; cherry, raspberry, clove, earth on the nose; cherry, strawberry, raspberry on the palate.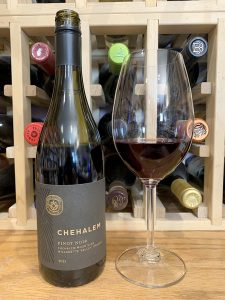 Dry; light-plus; well-behaved tannin and balancing acidity (3.45 pH). Clean, smooth, somewhat subdued example of classical Willamette Valley pinot noir, but delightful fruit nonetheless. If you enjoy pinot noir that is elegant, even dainty—which is an excellent place to be—this is welcomed pour at its price point. Faint oak and vanilla; wine aged 10 months in French oak, 16% new. 13.5% ABV
The 2021 growing season was warmer than usual in the Willamette Valley, aiding vividness of the fruit. Spring was dry, then came rain during flowering, reducing some yields, followed by a heatwave. Some temperatures reached 115 degrees. Fortunately, the heat came between bloom and veraison, when the vines were least vulnerable. Climate cooperated for maturation and harvest. Bottom line—another reason Willamette valley PN is ascendant.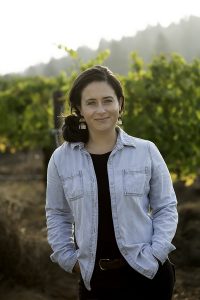 The vineyards and winery were LIVE certified in 2008. LIVE certification acknowledges socially responsible winegrowing and winemaking in the Pacific Northwest. Chehalem earned B Corp Certification in 2018—B Corp determines companies ensure they meet the highest standards of social and environmental performance.
Katie Santora is the winemaker. She worked as the assistant winemaker at Chehalem beginning in 2012. Santora earned her degree at UC Davis majoring in enology and viticulture. Her admirable philosophy is minimal processing, allowing the fruit to speak for itself.
Chehalem Pinot Noir Chehalem Mountains, Willamette Valley 2021 is smooth, elegant, somewhat bashful red fruits, easy-going tannin and proper acidity. Pleasant, middle-of-the-road, easy-drinking pour from region making very high quality pinot noir. Pair with poultry—baked chicken, turkey; lighter beef cuts; veal; richer fish—salmon, tuna; grilled mushrooms; pork. Cheese—sheep's milk cheese; gruyère, swiss, provolone, caciocavallo, fontina, brie, camambert. $25-32