Deep ruby color; black fruits, some toffee, spice box and vanilla on the nose; blackcurrant, black cherry, plum, minerals, oak spice, wisps of red fruit and cocoa on the palate.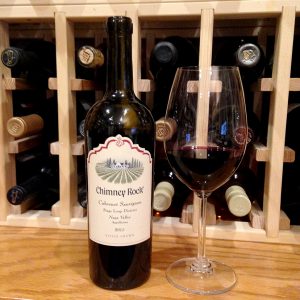 Dry; full, round, big Napa red with assertive but silky tannins, especially after decanting. Elegantly smooth. Structured for long-term aging 10 to 20 years. If you can't wait that long, definitely decant for consumption now. This is cab-dominated left-bank Bordeaux blend: 81% cabernet sauvignon, 13% merlot, 5% cabernet franc, 1% petit verdot. It also is a distinctly Stags Leap District effort.
Napa winegrowers believe the one-mile long, three-mile wide Stags Leap District is the greatest terroir in the world for cabernet sauvignon. That is sure to start a debate, especially with Bordeaux, but at minimum they have a case. This effort from the winery's estate vineyards is an example of the lush texture, distinctive rich flavors, and ageability possible from this world-renowned three square miles of Earth.
Winemaker Elizabeth Vianna describes the Chimney Rock approach on their website: "Being a winemaker is a blend of art and science. It is mainly science, but the artistic dimension is so fun—it's instinct, using your palate much in the way that you use your imagination."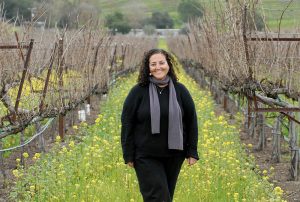 Chimney Rock began when Hack and Stella Wilson purchased a 180-acre parcel that included a golf course on the east side of the Silverado Trail in 1980. The first 59 acres were planted with a combination of red and white grapes; the premier vintage appeared in 1989. Shortly thereafter, however, phylloxera required replanting of the entire property, which involved a switch to classic Bordeaux grapes.
The website takes up the narrative: "In 2000, the Terlato family joined the Wilson family as partners in the winery with added resources and the goal of enhancing Chimney Rock's reputation for producing some of the world's great estate Cabernet Sauvignons. In 2001, the remaining land, covering 60 acres, was planted entirely to Cabernet Sauvignon. Since the Terlato family assumed sole ownership of Chimney Rock in 2004, they have had a clear vision of the potential of this great estate. They have steadfastly supported and shepherded only the highest standards in viticulture and winemaking. The Chimney Rock estate now comprises 119 acres of vineyards divided into 28 distinct blocks, allowing for highly specialized viticulture suited to each specific site."
The vineyard-winery operation is committed to sustainability and ensuring the longevity of the remarkable land entrusted to them. They are green certified by the California Land Stewardship Institute, are 100% solar powered, have used recycled water for vineyard irrigation for more than 10 years, practice integrated past management—combined biological, cultural, and natural chemical approach to pest management that minimizes environmental and health risks, and use cover crops between vineyard rows to improve soil health. John Terlato sums it up: "The objective for the Terlato family is to leave our surrounding environment in better condition than how we found it."
Chimney Rock Cabernet Sauvignon Stags Leap District Napa Valley 2015 is a very approachable, upper-end Napa cab that can run with big dogs with multiples of its price. If you want to taste what makes Stags Leap special and only have a good credit card rather than a trust fund, give this a shot. The fruits are delicious, the tannins supple after decanting. If you are a patient person, drink one bottle of this now and put the other in your cellar for the next decade. Pair with hearty meat dishes; smoky ribs and barbecue ribs; pepper steak; mushroom burgers. $90-100