Deep ruby color; plum, cherry, liquorice, herbs on the nose; plum, blackberry, cherry, chocolate, vanilla, oak spice on the palate.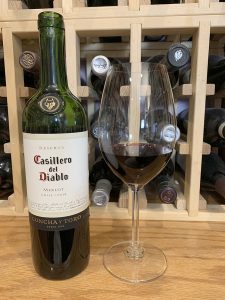 Dry; smooth and mellow; easy-going tannin and balancing acidity. Laid-back, soft, simple sipper with modest core of fruit flavors. Light-medium body; fast fade on the finish. 100% merlot. Nothing complex here, just a value-priced red wine that will not offend anyone, but it will now wow anyone either. 13.5% ABV
Concha y Toro consistently delivers great value for price. Casillero del Diablo is one of their premium wine labels, although this is premium price for Chilean wine—it is a super bargain for you. If you pay a few dollars more you can get the "reserva privada" offerings which deliver more complexity and refinement. Don Melchor is Concha y Toro's flagship label. Lower-end varietal labels include Fontera and Sunrise.
Winemaker Marcelo Papa is responsible for this wine. He earned a degree in enology from Universidad Católica de Chile, joined Concha y Toro, and has been head winemaker at Casillero del Diablo since 1998.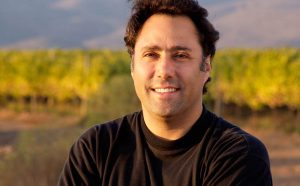 Concha y Toro is Chile's biggest winery and an important player on the world wine stage. Don Melchor de Santiago Concha y Toro founded the winery in 1883. When he saw that some of this best wines disappeared from his cellar, Don Melchor decided to put an end to thefts by creating a story that the devil lived in the cellar, which was in the deepest and darkest part of the winery. The Casillero del Diablo rumor spread. Some claimed to have actually seen diablo (the devil). As the story goes, the thefts stopped. Today, the legend lives on more as a marketing ploy than a ploy to frighten would-be cellar robbers. It is a particularly useful marketing tool around Halloween.
Concha y Toro, BTW, is Spanish for "shell and bull." The Casillero del Diablo story may contain some elements of bull, but the wines consistently are very drinkable values, and Chile—and Argentina on the other side of the Andes—are major contributors to the exquisite abundance of quality wines in the world today.
Concha y Toro Casillero del Diablo Reserva Merlot 2016 is straightforward, easy-drinking value play. Soft and mellow. Serviceable as weekday wine, or second-third bottle at a meal with several wine drinkers. Pair with lightly-seasoned meats; roast chicken; pastas with red sauces; risottos; soft cheeses. $9-12
Casillero del Diablo website with excellent opening video