Deep purple color; blueberry, black fruit, flowers on the nose; blueberry, plum, chocolate, licorice on the palate.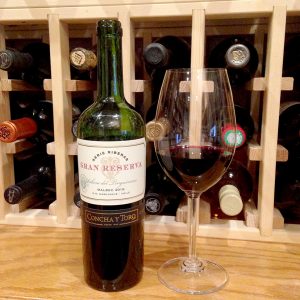 Dry; expected restrained tannins from primarily malbec—this is blend of 85% malbec, 15% merlot. Rustic and disjointed on pop-and-pour, but smooths out considerably with decanting. Good acidity for malbec—3.45 pH. Somewhat austere; this is not a fruit-forward effort. Do not expect the fruity, smoothly relaxed taste of an Argentine malbac. The grapes come from Chile's Colchagua Valley in Chile, better known for cabernet sauvignon, while Argentina across the Andes is the malbec suzerainty, but both can produce both, as this effort reflects.
Concha y Toro Serie Riberas (Riverbank Series) wines come from vineyards near Chile's major rivers—the Rapel, Cachapoal, and Tinguirica. The vines benefit from the contrast of warm breezes from the Central Valley and cool winds moving up the rivers from the Pacific and from the Andes Mountains. The climate is classified as Marine Mediterranean.
Concha y Toro headquarters in Santiago, Chile, and is one of the global leaders in wine. The original vineyard was founded by Don Melchor de Santiago Concha y Toro and his wife, Emiliana Subercaseux in 1883. The original grapes came from Bordeuax. The vineyard was incorporated as a stock company in 1923, with shares sold on the Santiago stock market. In 1933, Concha y Toro began exporting wine through the port of Rotterdam, the Netherlands. In 1987, it partnered with U.S. importer Banfi Vintners, upgraded technology, and began its rise to a significant player on the world wine stage. In 1994, shares of Viña Concha began trading on the New York Stock Exchange.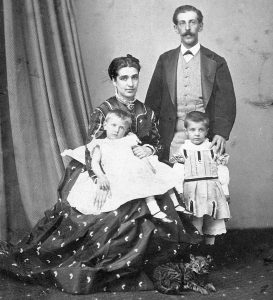 Concha y Toro is not just a Chilean winemaker today. Their California brands include Fetzer, Bonterra, Five Rivers, Bel Arbor, Jekel Vineyards, Coldwater Creek, Sanctuary, and Little Black Dress. 
Concha y Toro Serie Riberas Gran Reserva Malbec 2016 is more muscular and rustic than efforts from many Argentina makers. It drinks more like a cabernet sauvignon than a malbec. Malbec usually is pegged as falling between cab and merlot; this lands closer to the cab profile. That rustic roughness means it will pair well with rich red meats, venison and other game, mushroom and truffle risotto, stir-fried pork, lamb, tomato-based meat and pasta dishes, pizza, and burgers or sliders. $16