Deep gold color; apple, pineapple on the nose; green apple, pinch of pear and tinge of orange on the palate.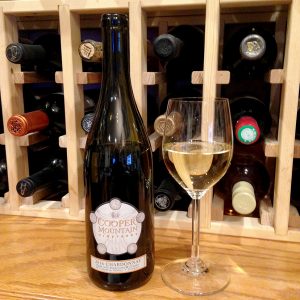 Dry; simple, clean, hint of saline on the finish; 50% fermented in stainless steel, 50% in neutral oak. Great texture in the mouth.
Cooper Mountain Vineyards owner Dr. Robert J. Gross is a psychiatrist, homeopath, and acupuncturist in addition to being a vineyard owner committed to organic and biodynamic farming. The enterprise began in 1978 when Dr. Gross and his wife, Corrine, planted their first pinot noir and chardonnay in the volcanic soils of Cooper Mountain in Oregon. They sold grapes to other producers, then built their own winery and offered their first vintage in 1987. Today, Cooper Mountain Vineyards grows on 123 acres and produces five varietals—pinot noir, pinot gris, chardonnay, pinot blanc, and Tocai Friulano.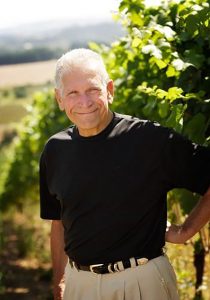 Cooper Mountain has a long history of organic, sustainable farming. Its vineyards were certified organic by Oregon Tilth in 1995 and certified biodynamic by Demeter in 1999. The winery was certified organic for operations and processing by Oregon Tilth in 2002. It became the first U.S. winery to gain label approval for a no-sulfite-added wine under new National Organic Program standards in 2002. It met the carbon neutrality challenge in 2010.
Gilles de Domingo is the winemaker. He earned a degree in oenology and viticulture from Bordeaux Aix, then worked in wineries around the world—New Zealand, Australia, South Africa—before coming to Oregon. He worked at King Estate and the Bridgeview Winery in the southern Willamette Valley before joining Cooper Mountain. Barbara Gross is the daughter of Bob and Corrine and now in charge of operations at Cooper Mountain. She earned a BS from the University of Oregon and is a graduate of the UC-Davis wine marketing program.
Cooper Mountain Vineyards Chardonnay 2016 is clean, clear expression of chardonnay without oak and butter clutter. Vegan friendly—natural clarification, no egg white fining. Cooper Mountain is environmental, organic fanatic operation Pair with chicken, crab, poached salmon, cream cheese and bagel chips. $18-20
Cooper Mountain Vineyards website