Medium ruby color; raspberry, pomegranate, cherry, plum, blackberry on the nose; cherry, plum, raspberry, blood orange, whiff of oak notes on the palate.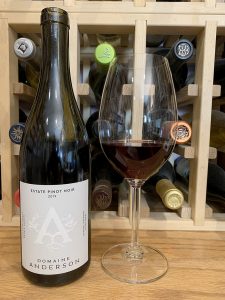 Dry; light-medium body; smooth; genteel tannins and elegant acidity. Fruit-forward, plenty of delicious flavor. Good depth for this entry-level Domaine Anderson pinot—entry level for a producer at this level. Nice length on savory finish. 12.6% ABV
This vintage is the first certified organic vintage for the Domaine Anderson Estate pinot noir. Sixty percent of the grapes came from the Dach vineyard, a Demeter biodynamic and CCOF organic certified 20-acre home ranch 20 miles from the Pacific Ocean, and 40% from the Walraven vineyard, the maker's warmest inland site near the village of Boonville. Walraven has been CCOF organic certified since 2019—this vintage.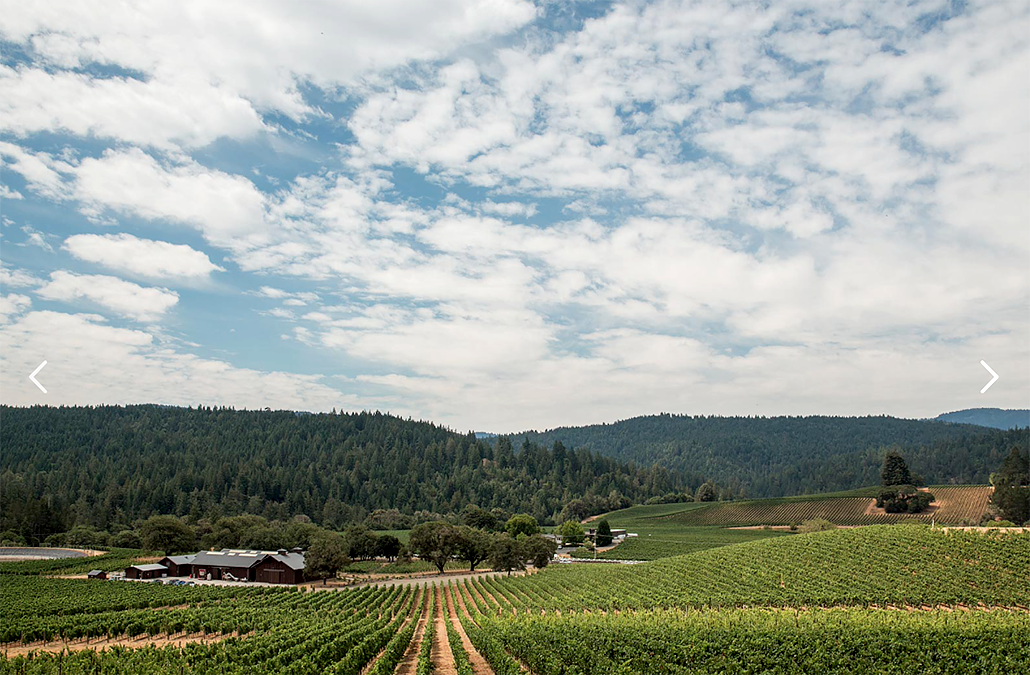 The winery notes: "We handpicked grapes during the cool summer nights from late August to mid-September. Small fermentation batches were allowed to spontaneous ferment with indigenous yeast. A combination of punchdown, foot tread and gentle pumpover were used during an average 8-day skin contact maceration before pressing in our small basket press. Slow and cool indigenous malolactic fermentation in 60-gallon French oak barrique, including a modest 5% new barrel to allow for pure expression of fruit without too much new barrel impact lasted through the spring months. The wine was racked and blended just before bottling in the winter of the following year."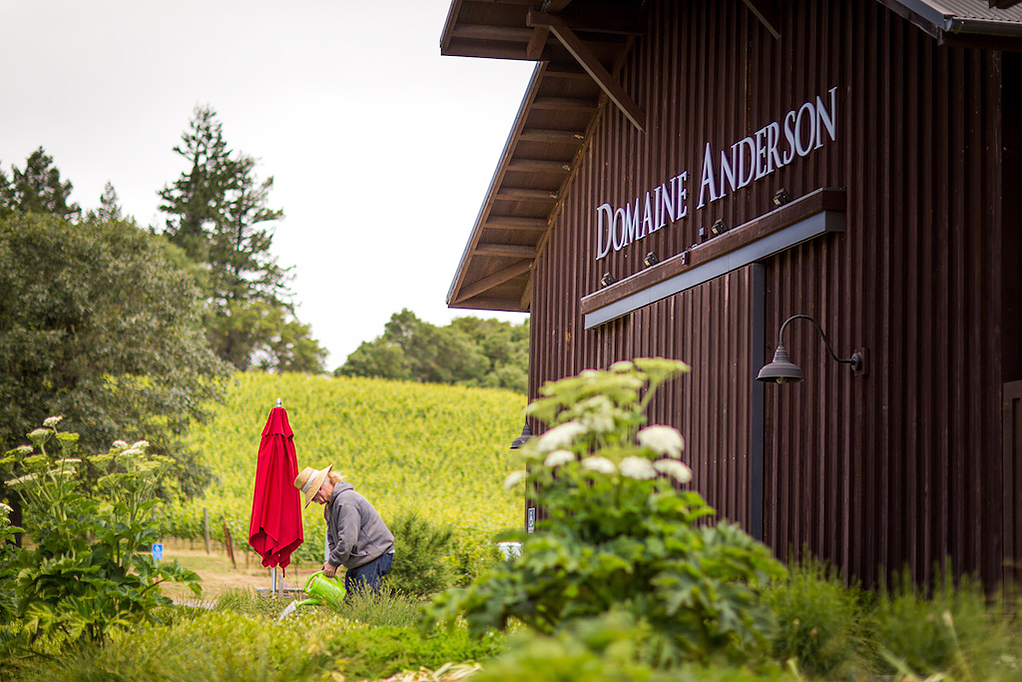 Domaine Anderson is part of the Louis Roederer company. Jean-Claude Rousaud, patriarch of the Louis Roederer family, came to the Anderson Valley in 1981 to cultivate premium pinot noir and chardonnay. Today, his son Frederic is in charge of the 50 acres. The website notes, the "family-owned vineyards weave throughout the Anderson Valley's dramatically diverse terroir, dedicated exclusively to Domaine Anderson pinot noir and chardonnay."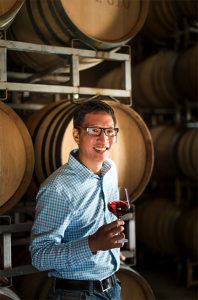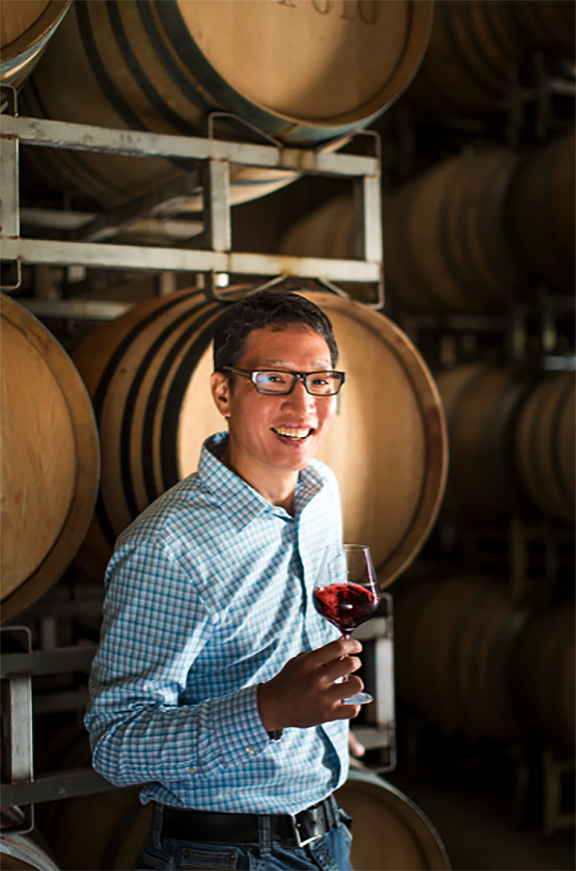 Darrin Low is the winemaker. The website notes; "A native of California wine country, Darrin's fascination for being a winemaker began at an early age, growing up in Healdsburg and working in his parent's wine shop. This early exposure to the world of wine led Darrin to major in Enology and Viticulture at UC Santa Cruz, during which he studied abroad at l'Institut d'OEnologie in Bordeaux, France. After graduation, he followed his passion for pinot noir to Oregon's Willamette Valley, before returning home to make wine at J, Grgich Hills, and Flowers. An advocate for organic farming methods and biodynamic philosophy, Darrin is inspired to carry on his efforts at Domaine Anderson, the Louis Roederer family's newest estate property in the Anderson Valley."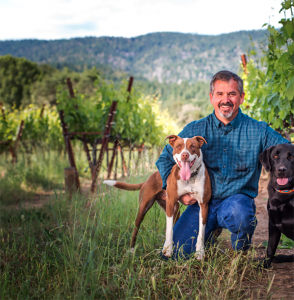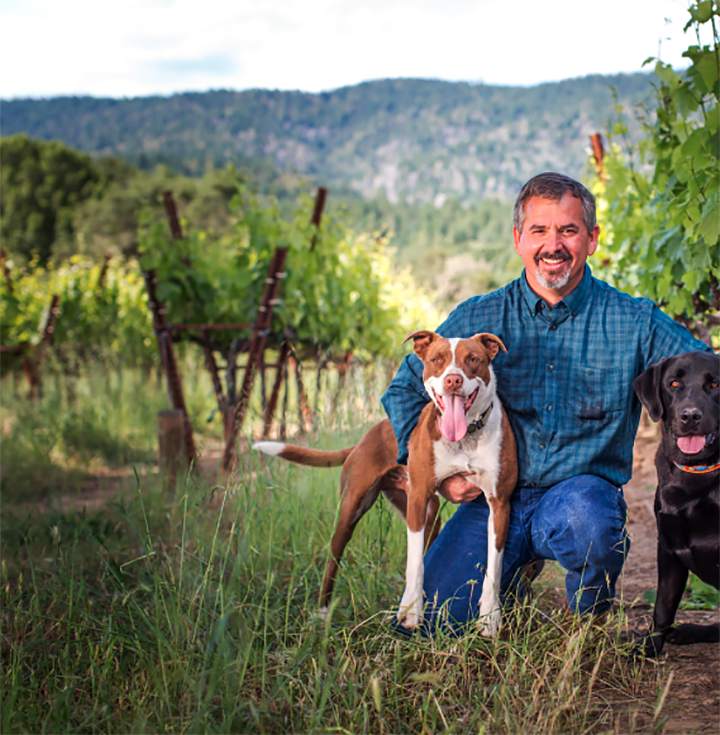 Low and director of vineyard operations Bob Gibson are advocates of organic and biodynamic practices. Groundwater is captured with a drainage system and repurposed for irrigation in a reservoir. All-natural compost improves fruit quality. Selected plants welcome hummingbirds, bees, and ladybugs to help control vineyard pests and promote pollination.
Domaine Anderson Estate Pinot Noir, Anderson Valley 2019 is tasty, quality entry-level pinot from this higher-end producer. Red fruit dominates. While it lacks the layers and complexities of Domaine Anderson's pricier pours, it is a solid, captivating libation. Stays true to pinot noir varietal profile, which always is a good thing. Pair with salmon; turkey and poultry; lighter beef; veal; venison. Cheese—fresh cheeses, mixed milk cheeses, soft goat cheeses; burrata, mozzarella, feta, mascarpone, rocchetta. $50-55
Domaine Anderson sales and marketing arm Maison Marques & Domaines website