Medium purple color; plum, cherry, blueberry, red fruits on the nose; plum, red and blue berries, pinch of salt, spice on the palate.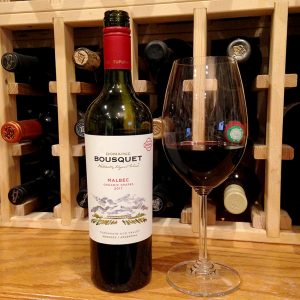 Dry; nicely focused with pleasing mouthfeel; somewhat grapey; some fruity sweetness on mid-palate, then salt-minerality fully appears on the finish; gentle tannins with some balancing acidity. No oak. Soft; simple; this is Domaine Bousquet's entry-level, commercial effort. It succeeds for what it is intended to be. Made with certified organic grapes.
The Bousquet family has four generations of winemaking experience. They arrived in Mendoza, Argentina, from France in 1990 and fell in love with the possibilities. They purchased land in the foothills of the Andes in 1997 in the Tupungato Valley, elevation 4,000 feet, one of the higher altitude vineyards in Argentina and the world. The climate is very dry, allowing Domaine Bousquet to have excellent water control through drip irrigation using meltwater from nearby Andes Mountains.
The winery is one of the world's most awarded fully organic operations. As their website states: "We are dedicated to farming organically while improving our land's biodiversity. We believe that the healthier the vineyard, the better the fruit and of course the wine. In other words, by nourishing the land and treating it with respect, we know that the land will give us back its finest fruits." And: "Organic crops are grown in harmony with nature without using any chemicals such as pesticides, herbicides, and fertilizers. Organic agriculture uses natural fertilizers such as compost."
Domaine Bousquet Tupungato Uco Valley Malbec 2017 should be appreciated as large-volume, entry-level wine. It is true to malbec flavor profile; lacks depth and complexity—but provides very good value for the price. If you want more from malbec, Domaine Bousquet has several levels above this that will grant your wine wish if you are ready to pay. Excellent candidate for second bottle of weekday no-drama wine cruising. Pair with burgers (especially ones that include blue cheese), pizza, comfort food, lean cuts of meat (skirt steak, sirloin), lamb, peppers stuffed with wild rice and mushrooms, pork tenderloin, turkey; gorgonzola, melted Swiss, provolone cheese. $10-13