Medium purple color; plum, black cherry, raspberry, blueberry, minerality, violets, smoke on the nose; black and blue fruits, dried raspberry, olives, minerality, smoke, wet earth on the palate.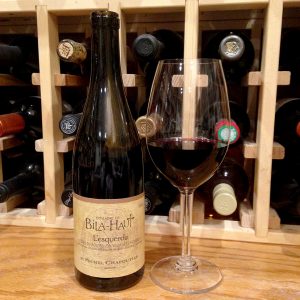 Dry; medium body, rich, bold. Fine but assertive tannins on pop-and-pour, really smooths out and elevates the superb fruit flavors after decanting, which is strongly recommended. Good balancing acidity. Blend of 60% syrah and 40% grenache (some vintages include a hint of carignan, but this vintage apparently does not); destemmed and aged in concrete, so no oak influence and great purity of fruit.
The grenache comes from 70-plus-year-old vines grown in the garrigue (mix of juniper, thyme, rosemary, lavendar) scrubland on limestone hills of the Mediterranean coast. The syrahs grow on limestone and clay soils and schist-based land. All this adds minerality, reflecting in the name of the village near where the grapes grow: L'esquerda means "the fault in the rock" in the Catalan language. Located in the Languedoc region known as the Côte du Roussillon, one of the historical counties of the former Principality of Catalonia. About one-third of the inhabitants still speak Catalan, a Western Romance language that evolved from Latin in southern France and northern Spain around the eastern Pyrenees. The region has produced wine for more than 2,000 years.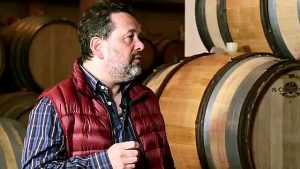 Winemaker/owner Michael Chapoutier purchased the property in the highly valued area in 1999 after building a world-wide reputation in the Rhône valley. This effort is west of the Rhône region near the border of France and Spain and the Mediterranean.
The House of Bila, a translation of the name of the estate, once was a refuge for the Knights Templar, which explains the symbol of the label of this wine. The Chapoutier family moto is Fac et Sprea—"do and hope". Their website celebrates audacity: "Being audacious means keeping an open mind, embracing new horizons, other localities, other organic winegrowing methods. Being audacious means combining tradition and modernity, making it possible for them to join forces and engender new know-how and craft."
Part of that approach is careful attention to terroir, which includes responsible agriculture commitments and biodynamic agriculture in some areas. Led by winemaker Michael Chapoutier, they pioneered a special wine team dedicated to "accompanying the wine harvest" to provide guidance and support for implementing farming methods favored by M. Chapoutier among grape growers who provide grapes to the winery.
M. Chapoutier also asserts dedication to consumers. Their stated values include "Respect for the consumer whether they are wine connoisseurs or not. Maison M. Chapoutier crafts its regional wines with the same dedication given to the most prestigious bottles, investing just as much faith. The aim is always to convey the same love of wine, to give complete beginners a chance to discover its diversity."
Domaine de Bila-Haut L'esquerda Côtes du Roussillon Villages 2014 is astounding value, drinking like wine three times the price. Becomes smother and gains depth as it is exposed to air. Delicious black, red, blue fruits in complex interplay. Beautifully balanced. If you find it, do yourself a treat—buy and enjoy. Pair with beef, pastas, lamb, veal, rich pasta dishes. $24-27