Medium gold color; white peach, lemon, smoke on the nose; white peach, cantaloupe, lemon, pear, almond on the palate.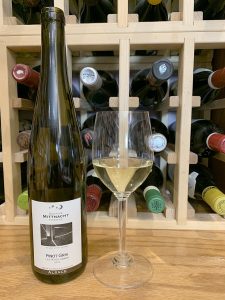 Dry; light-medium body; hint of oiliness. Aged in old barrels, so little or no oak influence, but softer and rounder than it would have been if it was aged in stainless steel. Nice balance of acidity and fruitiness in this fruit-forward wine. Delivers elegance and depth. 13.5% ABV
Domaine Mittnacht is a family-run estate that started in 1958. In 1963, brothers Andre and Louis combined their properties. Their more than 45 acres include a Grand Cru vineyard (Rosaker) and two Cru Classé vineyards where they are exclusive owners. They also hold long-term leases on other vineyards. Today, cousins Christophe and Marc Mittnacht are in charge of the domaine. The operation has been certified organic in 1999 and biodynamic since 2013. All harvests are done by hand.


The website notes: "The diversity of the plots that make up our vineyard, the geology of our soils and our environment, but above all our desire to live our profession as naturally as possible, are all aspects that have led us to engage in organic farming then certified biodynamic since 1999. Our desire not to use weedkillers, fertilizers and chemical insecticides but to let the flora and fauna present in our vines grow, to compose our own compost or to develop our biodynamic preparations specific to the needs of the plant has a threefold purpose: to guarantee a healthy product, to give the vines the means to defend themselves naturally and to preserve our terroirs in order to safeguard the originality of our Protected Designation of Origin."
This wine, and their other labels, are made with indigenous yeasts and minimal winemaker intervention. No fining or filtering. You get pure expression of Alsace pinot gris. French pinot gris is smoother and softer than its crisper expression in Italy, pinot grigio, although they are made from the same grape. Pinot gris/grigio is a mutation of pinot noir.

Domaine Mittnacht Freres Les Petits Grains Pinot Gris 2015 delivers nice balance and precise structure. Fresh. Round. Subtle, supple, and enchanting. Held up exceedingly well for six years, the mark of a quality producer and quality wine. Works well as an aperitif. Pair with white meats; fish; shrimp; garden salad with fruit elements; charcuterie board; hors d'oeuvres; roasted root vegetables; vegetarian fare; Thai, Vietnamese spicy foods. $22-24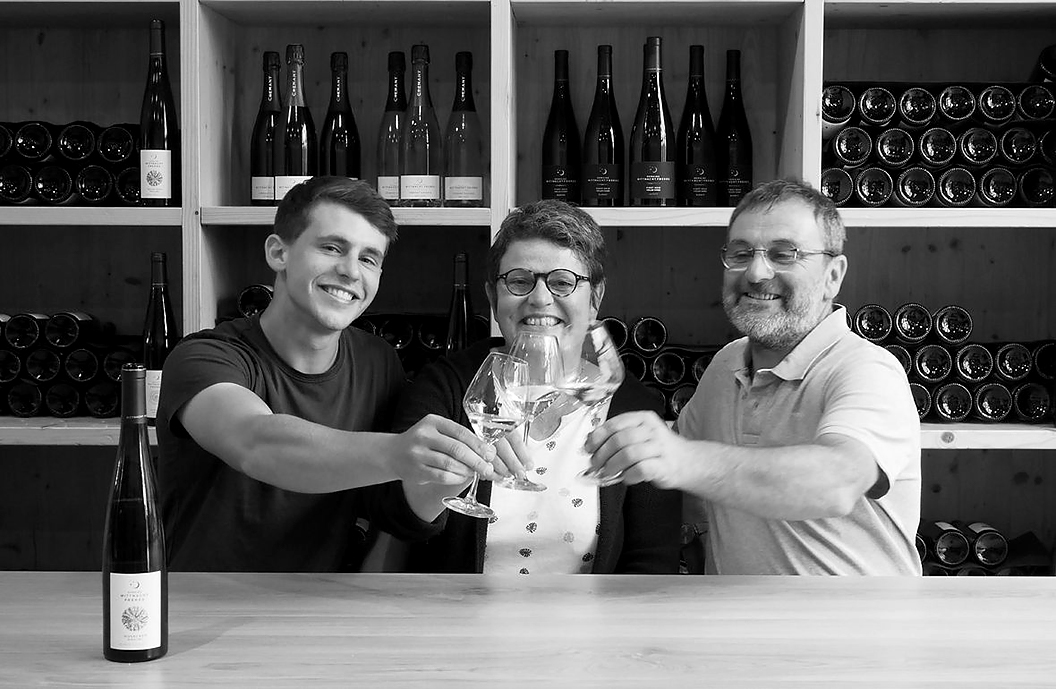 Consider signing up for my wine newsletter. It is free. Click here.