Pale copper-pink color; white peach, apricot, grapefruit on fruity nose; peach, strawberry, apricot, grapefruit, mango, citrus on the palate.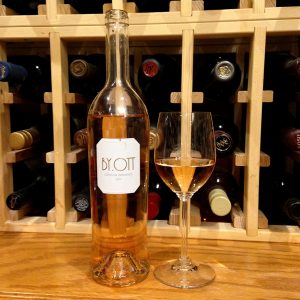 Dry with nice fruitiness; smooth and creamy in the mouth with good acidity; medium-full body. Interesting zing on the finish, especially late, and it lingers. Bright and fresh with nice minerality; the minerality is part of the intriguing finish. Blend of 65% grenache, 25% cinsault, 8% syrah, 2% mourvedre; 13.5% ABV. The grapes come from select vineyards in Côtes de Provence "chosen to ensure that the wine is characterized by fruit and freshness with added finesse and complexity," according to the website.
Their website tells the backstory well: "In 1896, after a tour of France's many vineyards, Marcel Ott, a young graduate in agronomy engineering from Alsace, finally found an estate that inspired him. To set the scene, we are in Provence. The Mediterranean is lapping at the shore a mere stone's throw away…
"In these parts, growing vines is the legacy of ancient times. Alas, a short while before Marcel Ott's discovery, phylloxera had wreaked havoc on the vines. The land was cheaper, but the vineyards would have to be replanted. The wine had lost a great deal of its soul in the vineyard's reconstruction. Marcel Ott bought several estates and began renovating them with the determined ambition to create great Provencal wines from noble grape varieties.
"Today, 120 years later, cousins Christian and Jean-François Ott dedicate their life to their ancestor's love for the site. In 2004, Domaines Ott* joined Louis Roederer and its fabulous selection of wine craftsmen.
"Christian and Jean-François run three estates: Château de Selle, Clos Mireille and Château Romassan. Each of these properties has its own individual charm and personality. Each can be proud of their extremely elegant rosé, red and white wines. In their cellars reigns one sovereign wine: the famous "Cœur de Grain".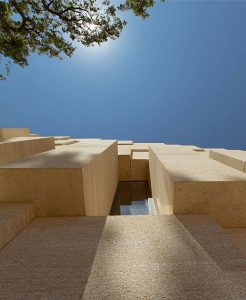 "BY.OTT is blended and bottled in the new Château de Selle cellar, where part of the winery is exclusively devoted to its production. The entire process is controlled – from the blending to the storage—ensuring the perfect quality expected of these wines."
Domaines Ott Côtes de Provence Rosé By.Ott 2017 is elegant, smooth, creamy, bright, fresh with a noteworthy finish. Lovely Provence rosé color, too. With distinctive bottle, beautiful color, and tasty fruitiness, this works well as an aperitif; also served very cold for solo sipping on patio, deck, or poolside. Yes, the wine's flavors will at first be muted by the chill, but you will appreciate the coldness in the first sips, and by the time you have the second pour, the rosé will have warmed enough to reveal its florid fruit expression. Provence rosés also pair with wide range of food, so let's list what not to pair it with: cream or butter-based sauces, red meat, wild game, ratatouille, curries, blue cheese and other strong cheeses. $20-25