Medium ruby-garnet color; black cherry, plum, smoke, cinnamon on the nose; black cherry, plum, stewed fruit, white pepper, minerality on the palate.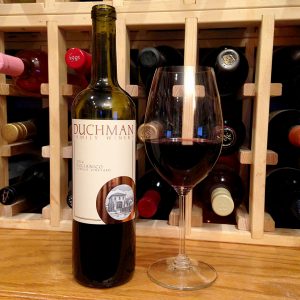 Dry; full body; robust, rustic, muscular; good acidity; dusty, grippy tannins—decant for best results; 14.5% ABV. One of Italy's noble grapes, Anglianico serves southern Italy in similar way nebbiolo serves northern Italy. The Duchman website notes: "Aglianico is perhaps the wine that most represents the vision of Duchman Family Winery. The grape was not widely known in the States, and pronouncing the name was an issue, but the potential of this grape to produce amazing wines was far more important than its popularity. Taking a gamble on this grape is one of our proudest moments, and the result is one of our greatest wines." The Texas grapes come from the Oswald Vineyard in Brownsfield, 40 miles southwest of Lubbock, one of Duchman's steady growers.
Duchman Family Winery is the dream of Drs. Stan and Lisa Duchman, who set forth to make world-class varietal wines in Texas based on Old World grapes. Stan is an interventional cardiologist, Lisa a doctor of optometry. Dave Reilly is the winemaker. According to the winery website, Reilly strives "to make wines that are true to their varietal character using the highest quality grapes grown in Texas." While the winery is in central Texas, almost all Duchman grapes come from the Texas High Plains AVA around Lubbock, as do most of the Texas grapes in Texas wines. The hot days and cool nights in the Texas Panhandle are great for grapes growing alongside cotton, feed grains, and cattle on the fabled Llano Estacado, the flattest expanse on Earth.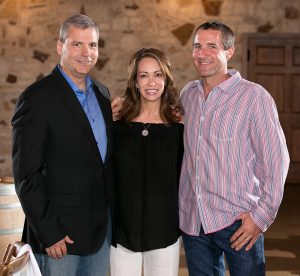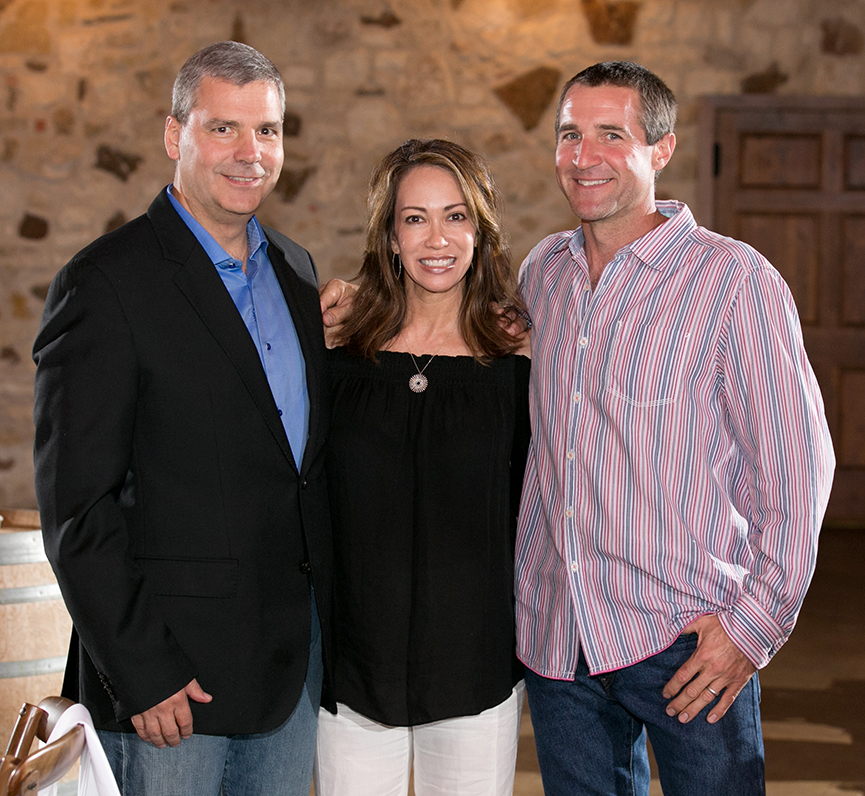 As do many Texas wineries, Duchman derives income from both its wines and its winery as a venue and tourist attraction. Duchman is one of the top wine destinations in Texas. HGTV ranked Duchman as one of the 20 most picturesque wineries in the country (country, not just Texas). As amazing as it may seem to some, the Texas Hill Country AVA is the second-most visited wine region in the nation, trailing only Napa. Duchman is located near Driftwood, Texas (southwest of Austin, north of San Marcos, northeast of San Antonio). Driftwood has a post office, a Baptist church, a general store, and a wedding venue and party place. If you blink twice while while driving, you might miss it.
Duchman Family Winery Aglianico Oswald Vineyard 2014 delivers vivid, tart fruits. Has enough heft, tannins, and acidity to complement rich, red meat dishes; better enjoyed with such food rather than sipped solo. All Texas fruit from one of the premier all-Texas makers. Aglionico pronunciation: "olli-yawn-nee-ko."Pair with braised or grilled red meats; barbecue; lamb; wild game; Italian sausage; rich Italian dishes; burgers and sliders; aged manchego cheese $25-30