Deep purple color; dark fruits, spice, blueberry on the nose; plum, black cherry, blackberry, licorice, chocolate herbs on the palate.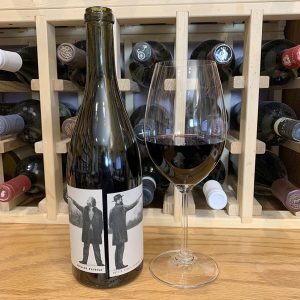 Dry; very ripe, vivid fruits suggest jammy on the initial attack. The blackberry jam never comes jarring into the picture, which is a good thing. Surprisingly rich, chewy, but somewhat subdued tannins considering the blend: 50% petite sirah, 50% cabernet sauvignon from Paso Robles. Oak clearly present, but not over-done; 18 months in 30% new French oak. Some balancing acidity, but reserved. Full body.
This effort finds its charm on being almost. Almost jammy, but pulls back from blackberry and plum jam on the mid-palate. Almost a Cali fruit bomb, but they may have picked the grapes the morning before the brix slipped into candy land. Almost oaky, but integrates with the rich, ripe fruit and then fades on the extended finish. Almost over-the-top alcohol Paso pour, but the 15.5% ABV does not equate to burn on the finish. The grapes are grown in Dry Creek Valley AVA and Paso Robles AVA. Paso Robles is the fastest growing AVA in California.

Dueling Pistols holds the story of its winery close. There are no pages on the company's webpage telling the backstory of the Paso Robles vineyards and winemakers. No useable photos beyond the label art. The main content is fanciful story behind the label. As do several Terlato brands, Dueling Pistols aims at the male millennial market.
Dueling Pistols is a Terlato Wine Group (TWG) brand. Terlato is a four-generation American, family-owned wine company based in Lake Bluff, Illinois. The Terlatos place an admirable emphasis on building a strong, family-owned and operated company. Participation, however, must be earned. Each Terlato must work outside the family business and rise to a management position before they achieve a place in the Terlato management team. Anthony Terlato, the family patriarch received Wine Enthusiast's Lifetime Achievement Award in 2015.
Dueling Pistols Petite Sirah Cabernet Sauvignon Paso Robles 2016 hits the mark of fruity, with fruity sweetness and lush dark fruits. Think Prisoner and Meomi reds, but with more depth. There is particular deliciousness on the finish. Pair with steakhouse fare—all manner of rich, red, marbled meats. $48-50
Dueling Pistols website with fanciful story behind the dueling pistols label
Terlato Wine Group website; includes interesting timeline of Terlato history.