Brilliant cherry red-medium pink color; raspberry, red currant grapefruit on the nose; raspberry, red currant tang, strawberry, red fruits, citrus, watermelon on the palate.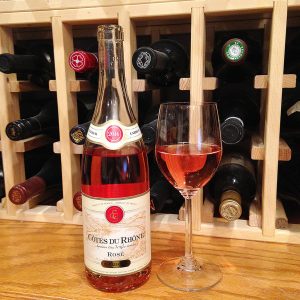 Extra dry, nice acidity, pleasing smooth-silky texture with medium body; clean, classy, seamless expression of red fruits with minerality, plus citrus and red currant tang present on the finish. Another wow wine for the price from E. Guigal.
Blend of 70% grenache, 20% cinsault, 10% syrah. The wine is drawn off the skins after a brief maceration, followed by a long, temperature-controlled fermentation; all aging is in stainless steel. This effort lands in the middle ground between a richly flavored and sweeter New World rosé and the drier, paler efforts in Provence immediately to the west of the Côtes du Rhône area.
E. Guigal was founded by Etienne Guigal in Ampuis, a small village in the heart of the Côte-Rôtie appellation in the northern Rhône, a place where wine grapes have been grown for 2,400 years. Etienne's son, Marcel, took over management of the operation in 1961 when Etienne suddenly was struck with total blindness. Marcel's wife, Bernadette joined the team in 1973, and today their son, Phillipe, is the winemaker working alongside his wife, Eve. In 1995, E. Guigal acquired the famed Château d'Ampuis, a landmark in the Côte-Rôtie; it houses the business offices today while wine making and cellaring remain in the village of Ampuis.
E. Guigal Côtes du Rhône Rosé 2016 continues the E. Guigal reputation as one of the top wineries in France; in fact, Drinks International rated them as the world's most admired French brand in 2017. This rosé will pair well with grilled fish, poultry, white meats, but it has the heft and assertive flavors to play with lighter red meats as well, and can work as an aperitif, especially with its strikingly beautiful color that nicely rounds out pleasing package. $14-18