Pale straw color; citrus, lemon-lime, tarragon on the nose; citrus, honeydew melon, lemon-lime on the palate.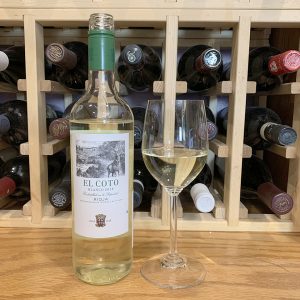 Dry; very expressive fruit. Blend of 93% viura, 4% sauvignon blanc, 3% verdejo. Honeydew frames the lemon-lime-citrus bite and a faint nuttiness (which will become more noticeable with bottle age—viura blanco can age up to 15 years, gaining richness and complexity). Good acidity (3.5 pH) adds a racy accompanying element. Minerality on finish; 12.5% ABV
This is large production—more than three million bottles—value wine. Drink this viura-led effort young and cold; age-worthy viura will cost you more and be harder to get. No oak. Low-temperature fermentation to accentuate the fruit. Love the softness of the honeydew and smooth mouthfeel juxtaposed with the cut of the lemon-lime-citrus. By second glass, I get grapefruit in the mid-palate. This is surprisingly complex wine at this price point; huge QPR (quality-price ratio).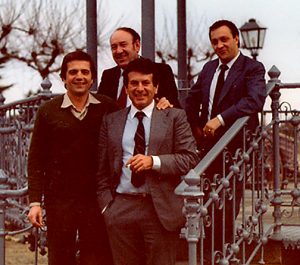 Bodega El Coto de Rioja traces its beginning to 1970s and the first harvest. The first winery opened in 1976, and a management team of owner Eduardo Santos-Ruiz, winemaker Pedro Guasch, and business and finance leaders Julian Díez and Julio Noain joined forces. By 1990, El Coto was firmly established as an international brand.
International business led to expansion of the winery in 1995. By 2004, El Coto was the largest winery in Rioja. By 2000, El Coto was the leading brand in Crianza and Reserva red wines in Rioja. In 2010, they began planting white grapes on the highest vineyard in Rioja. In 2014, the company built a winery to focus on white wine.
El Coto Blanco, Rioja 2018 is fun, fresh, easy drinker with intriguing mix of honeydew melon and lemon-lime-citrus fruits. Pair with grilled or baked seafood and fish; Asian coconut curries; gazpacho; polenta; savory soups; vegetable dishes; Spanish-style salads. $10-11
El Coto website; well done and informative