Deep ruby color; red and black berries on the nose; black cherry, blackberry, plum, raspberry, dark fruit, some menthol and pepper on the palate.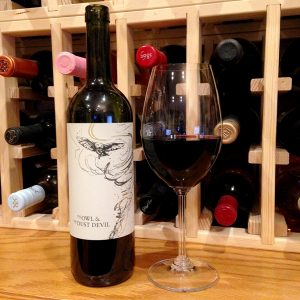 Dry; nice cameo appearance of chocolate on the finish; impressively clean and focused with plush mouthfeel; adequate acidity (3.7 pH), certainly when paired with the easy-going tannins. Exposure to air enhances the polish and sleekness, so consider decanting, but if you don't have the patience (or a Menu Wine Breather decanter, which significantly speeds up the operation), this is tasty on pop-and-pour.
There is some oak influence here after 18 months in French wood, 40% new, but thankfully quality makers around the world have learned how to use oak to complement rather than over-power their reds. Give online wine critic and guru Gary Vanerchuk some credit for promulgating the excoriating term "oak monster." Also give consumers credit for shunning over-oaked abominations for sensible use of wood, such as Finca Decero achieves with this effort.
The winery website has a wonderfully rhapsodic riff on the wine's name: "High against the Andes Mountains in Mendoza sits one of Argentina's jewels: the Remolinos vineyard. Here, in this tranquil environment, a group of Lechuza owls have made their home. Perched atop vineyard posts, they keep a watchful eye over the vines, protecting against pests—both real and imagined.
"Throughout the growing season a mystical battle unfolds. 'Remolinos', or whirlwinds, arise, spiraling into dust devils, which mischievously weave their way through the vineyard. Catching sight of the swirling dust, the owls take flight in chase, until the dust devils disappear into thin air. The owls then return to their watching posts, satisfied that their precious vines are safe once again.
"Little do the owls realize that the dust devils play an equally important role in protecting our vineyard. Their airflow defends our vines from spring frosts and keeps our grapes dry and cool during the summer. This intricately woven scene between two natural wonders, the winged predator and the wind, helps make our Remolinos Vineyard so distinctive and 'The Owl & The Dust Devil' wine so exceptional."
For more bells and whistles, you can download an app and point your smartphone at the bottle to initiate an augmented reality animation. If that is more than you care to bargain for, visit famed English wine writer Janice Robinson website for video (link below). As Jancis comments: "Gimmick it may be, but the production value is great, and the novelty of augmented reality on a wine label has thoroughly impressed everyone I've shown it to. In an industry where marketing and innovation is often an afterthought at best, this wine stands out for making the story of the wine so memorable."
Finca Decero The Owl & The Dust Devil 2015 is admirable blend of Argentine wine staples. There is some tannic roughness and flirtation with rustic, but overall a mature, enjoyable wine tasting experience, and the ability to turn the wine label into a augmented reality experience counts for something. This is the second iteration (vintage) of this effort. Blend of 39% cabernet sauvignon, 32% malbec, 19% petit verdot, 10% tannat. By other's evaluations (I did not have the 2014 to compare) this is significant improvement, which bodes well for the future, especially when you factor in 2015 was difficult year some vineyards in Mendoza, Argentina. Pair with the red meats that go with cabs and merlots; burgers, sliders, pizza. $29-33
The Owl & the Dust Devil—rich website, worth a visit