Deep ruby color; dark fruits black cherry on the nose; honey, dark and delicious fruit, prune, black plum, black cherry, chocolate on the palate.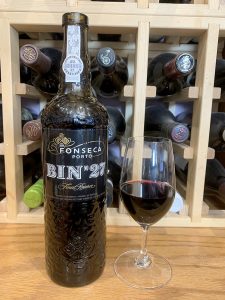 This is ruby porto. Sweet, but not as assertively sweet as some portos can be. Balancing acidity, a key to porto's charm. Some tannic notes, abetted by oak spice to be nice. Round and pleasing in the mouth. Finish lingers nicely, with the dark fruits continuing their leading role in this wine drama.
Two Pinhão Valley estates—Quinta do Cruzeiro and Quinta de Santo António—have suppled grapes to Fonseca for more than a century. The winery asserts the unique terroir of each provides the distinctive character of its porto blends. Cruzeiro provides core of black fruit and tannin. Santo António heady sents and jammy flavors.

Fonseca also is a leader in the organic and sustainable viticulture movement in the Douro Valley. They are among the first to gain organic certification. Quinta de Santo António is completely converted to sustainable, and it is certified for organic production for both its grapes and its olive oil.
Fonseca Premium Reserve Bin No. 27 Porto is rich, warming, soft, voluptuous, juicy, delicious. All you can ask for in an entry-level port. Porto famously pairs with cheese, especially cheddar. Also works with dark chocolate and dark berry desserts; salted nuts; walnuts; chocolate-covered almonds. $15-18