Medium gold color; orange peel, white flowers, yellow apple on the nose; yellow apple, orange, lemon, vanilla, butterscotch, spice on the palate.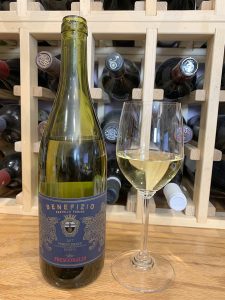 Dry; opulent, full body, intense chardonnay. Good balancing acidity. The wine saw time in oak, but it is appropriate—not overpowering—for a chard this big. Smooth and rich, so this likely saw all are most juice go through malolactic fermentation, but the butter is a pat, not a full stick. In sum, this is nicely balanced, quality Italian chardonnay.
While this is rich, fresh, big, and balanced, it largely is a straightforward chard play. There is not much complexity, although there is an interesting arrival of the lemon at the end of the mid-palate. And the 14.5% ABV plays its role on the finish. Frescobaldi relies on fruit, good acidity from an early harvest, and an impressive oak program to make its statement. Likely did not spend extended time on the lees. Winery's notes do not address this, which can be a tell that lees laying and bâtonnage (lees stirring) were not part of the program.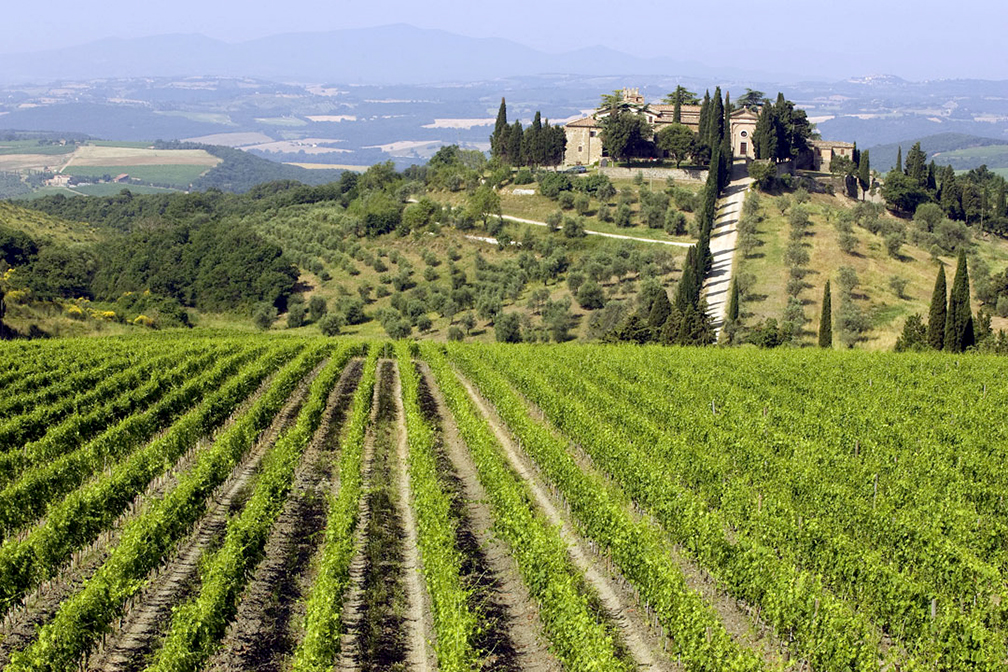 Chardonnay was first planted in Castello di Pomino's vineyards in 1855, so they have plenty of experience with Tuscan chard. Pomino was the first winery in Italy to be ferment their chardonnay in barriques (smaller oak barrels). With the 2005, Benefizio earned right to be labeled riserva.
Members of the Frescobaldi family have been major players in Florence and Tuscany for more than 700 years. They began producing wine in Tuscany in 1308; some of their customers included Michelangelo and Henry VIII. At the high point of medieval Florence, the Frescobaldi family spread its influence as bankers, earning the title of treasurer to the English crown. Later, with the flowering of the Renaissance, they became patrons of major works in Florence, including construction of the Santa Trinita bridge and the Basilica of Santo Spirito. In a foreshadowing of the Super Tuscan revolution, they began planting chardonnay, cabernet sauvignon, and merlot vines in the region in 1855.

In 2007, Lamberto Frescobaldi, the 30th generation of the family, became vice president and oversaw the renewal of the estates in the family's extensive portfolio. In 2013, Lamberto became president of the company, taking over from his uncle Leonardo. Lamberto studied at UC-Davis and has worked to modernize the company and expand in the U.S. and other markets since the late 1980s. You have a good chance of finding this wine in better wine stores and online.


Frescobaldi Pomino Benefizio Riserva 2017 is rich, impressive Tuscan chardonnay from winery with more than a century and a half of experience with the grape variety. This is Frescobaldi's top chardonnay, and they are an important and skilled winery. People who assert they are ABC (anything but chardonnay) devotees could enjoy this. Pair with pasta dishes with white sauces, but also would work with tomato-based sauces thanks to its weight; vegetarian dishes; appetizers, snacks; charcuterie board and cured meats; lean fish; roasted and grilled chicken. $25-34
Frescobaldi website, rich with photos and videos