Pale gold color; melon, white peach, lime, citrus flowers on the nose; ruby red grapefruit, honeydew melon, Meyer lemon, citrus on the palate.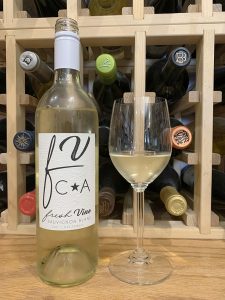 Dry; light body, fresh, crisp, refreshing. No oak, tannins, moderate acidity. Ingredients/information on the label, a selling point: 0.1 g sugar; 2.8 carbs; 98 calories; gluten free; 0 g fat; 0.06 g protein; 12.5% ABV. Position statement: "Less finally tastes better."
Fresh Vine asserts it is an active lifestyle wine. Low calorie, low sugar, low carb. Produced and bottled in Napa. The winery asserts: "Fresh Vine Wine, Inc. is a premier producer of lower carb, lower calorie premium wines in the United States. Fresh Vine Wine's brand vision is to lead the emerging natural and accessible premium wine category, as health trends continue to accelerate in the US marketplace. Fresh Vine Wine positions its core brand lineup as an affordable luxury, retailing between $14.99-$24.99 per bottle."
The website does not identify the winemaker or vineyards, so it is very likely this is a négotiant operation. The winemaker appears to be veteran, and talented, Jamey Whestone, but his is not featured. The emphasis is on the commodity product, not some romantic backstory of grape farmers and wine production facilities. The photographs on the website are lifestyle glamor shots, not glimpses into principal and production. Two of the owners of the brand are actresses Nina Dobrev and Julianne Hough. They are the face of the operation, but it is very unlikely they participate in the actual winemaking. The company headquarters in Minnetonka, Minnesota.
The point of the operation is to position the wine against big-box grocery store wines. It succeeds. It is not an artisanal effort. But it also is not mass-produced plonk. The company is still working out the kinks with recent churn in upper management. But as a celebrity-branded, négotiant effort with a commitment to healthy pours and ingredient transparency, this is more than drinkable, especially at its price point.
Fresh Vine Sauvignon Blanc, California 2021 is clean, fresh with strong emphasis on low calorie, low sugar, low carb.Very light on the palate, but succeeds in delivering a credible sauv blanc experience. Ruby red grapefruit and Meyer lemon are especially pleasing taste elements. Pair with shellfish; shrimp piccata, freshwater fish; lighter meats; summer salads, especially with some fruit accents; charcuterie board, again with fruit as part of the offerings; vegetarian fare. Cheese—goat cheese is the default with sauv blanc; goat milk cheddar, gouda, havarti, monterey jack, muenster, parmesan, swiss. $15-18
There are no relevant photographs of wine operations on the website.