Deep purple color; red fruits, cocoa, nutmeg on the nose; red and black fruits, plum, cassis on the palate.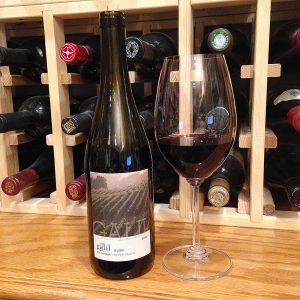 Dry, good acidity for red blend (3.70 pH), behaved tannins, medium body. Very clean, pure fruit play—according to Galil, the wine fermented and aged in stainless steel, so there is no oak interference, which is interesting since alon means "oak tree" in Hebrew. Alon also is an Israeli surname and a masculine given name, so that may be the genesis of the word on the label. Blend of 41% cabernet sauvignon, 35% syrah, 17% cabernet franc, 7% petit verdot. Full malolactic fermentation makes this very smooth; drinks more like a pinot noir than a rich red blend. No decanting needed, something I do not say very often about a red wine. Very distinct fruit flavors from initial attack through the medium finish.
This is smoother and more immediately approachable than Galil's other red blend, Galil Mountain Winery Ela Upper Galilee Dry Red Wine, that is blend of 51% syrah, 46% barbera, 3% petit verdot and sees time in oak. Both are tasty treats, but the Alon seems more refined without the Ela effort's tartness and bite. Two distinctly different red blends with only a single word indicating the difference.
Regular readers will know of my respect and admiration for Israeli wines and Galil Mountain. The winery was established in 2000 by Golan Heights Winery and Kibbutz Yiron; it is located in Upper Galilee mountains in the northern tip of Israel, a wine growing region with vineyard legacy going back for more than 2,000 years. The winery embraces sustainable agriculture and environmental responsibility, including solar power, wastewater management, and composting instead of chemical fertilizers. It is one of the largest wineries in Israel.
Winemaker Micha Vaadia, who served as a paratrooper in the Israel Defense Forces, first studied electrical engineering, then switched to horticulture at The Hebrew University. He earned a master's degree from UC Davis, then worked at J Wine, Navarro, and La Crema in California, Cloudy Bay in New Zealand, and Catena in Argentina. Well trained and well traveled, he returned to Israel to become chief winemaker at Galil.
Galil Mountain Winery Alon Upper Galilee Dry Red Wine 2013 emphatically demonstrates Israel produces quality wine at nice prices. This is very easy in the mouth with pinot noir-like weight and etherial notes. Another impressive effort from Galil Mountain Winery. $20