Medium straw-gold color; peach, nectarine, citrus, melon, beeswax, white flowers on the nose; peach, pear, apricot, tangerine, lemon, white almond, minerals on the palate.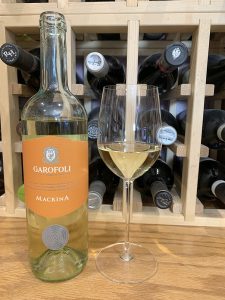 Dry; tangy acidity. Medium body, excellent mouthfeel, texture. Clean, pure fruit. Soft pressed whole grapes, cold fermented and aged in stainless steel and concrete, no malolactic fermentation, no time in oak. Some complexity and depth. Full of flavor. Intriguing hint of saline and honey on the finish. 13% ABV
Verdicchio is a white grape particularly associated with the Marche region of Italy. Verdicchio Dei Castelli Di Jesi is the larger of two dedicated denominations. It is located in the hills around the town of Jesi in the province of Ancona. There are three classifications: Classico, Classico Superiore, and Riserva. The name "Macrina" comes from Saint Macrina, whose likeness was in a votive shrine near the vineyard.
Founded in 1871, Garofoli is one of the oldest family-owned wineries in the Marche. It began when Antonio Garofolio began producing wine for pilgrims coming to the famous Basilica della Santa Casa in Loreto. Antonio's son, Gioacchino, founded the winery in 1901. His sons, Franco and Dante, succeeded him after World War II. They assembled 128 acres of vineyards in the zones of Montecarotto (Jesi area) and Paterno and Piancarda (Mt. Conero area), and Castelfidardo.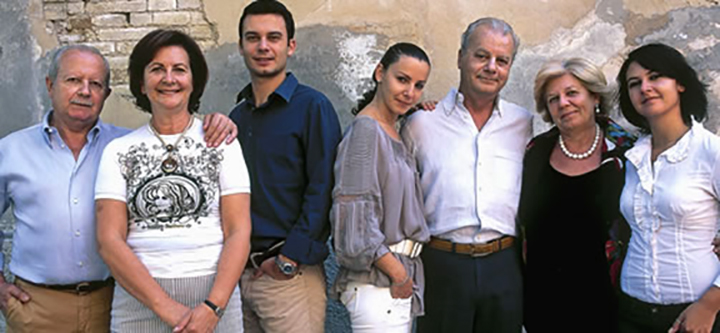 The winery is now run by the fourth and fifth generations—brothers Carlo and Gianfranco Garofoli and their three children Gianluca, Caterina, and Beatrice. The winery is noted for its verdicchio, where they were among the first in the Marche to reduce yields and experiment with different aging techniques. They pioneered such practices as aging verdicchio wines, using 100% verdicchio rather than blending, using standard wine bottles rather than the old-time "amphora"-type bottles.
Marche stretches along Italy's eastern coast. Umbria lies to its west, Abruzzo to its south. Climate in Marche varies north-to-south. Its coastal plains roll into hills that become the Apennine Mountains, which run the length of the country. The best Marche wines come from montepulciano and sangiovese grapes. The local verdicchio that the Garofolis are noted for makes crisp, light white wines. The Marche region leads Italy in per-capita wine consumption.
Gioacchino Garofoli Macrina Verdicchio Dei Castelli Di Jesi Classsico Superiore DOC 2019 is delicious, sapid expression of verdicchio grape. The Garofoli's are verdicchio masters—they have another verdocchio bottling, Podium, that is a step up (and twice the price). The Macrina drinks just fine. Pair with fried, baked, roasted seafood; fried chicken; pasta; appetizers and snacks; cured meats; charcuterie platter; roasted summer vegetables, vegetarian fare. $13-17
US distributor Garofoli website