Deep ruby color; cherry, plum, blackberry, earthy notes on the nose; red fruit, sour cherry, black plum, redcurrant, blackberry, pepper, minerality, oak spice on the palate.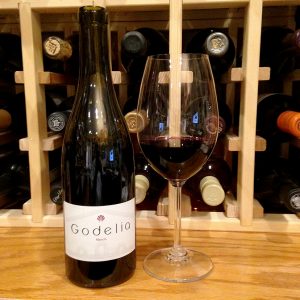 Dry; moderate acidity; very concentrated, nicely polished red wine. Significant tannins, and although they are smooth, decanting is strongly recommended. Fermented in stainless steel, followed by a year in 105 and 132-gallon oak casks (90% French, 10% American, one-third new oak). Oak and chocolate especially present on the rounded, structured finish.
Mencia is a red grape grown in northwest Spain and Portugal (where it is called Jaen); it is similar to pinot noir and gamay, but fuller in body and more assertive. This comes from the Spanish Bierzo region in the northwest of Castilla y Leon, close to the region's borders with Galicia to the west and Asturias to the north. Bierzo's proximity to the Atlantic significantly affects its vineyards, with temperature variations and milder temperatures than found in Castilla y Leon's inland areas.
Bierzo earned DO status in 1989. Although it does not make the claim on the label, Bierzo reserva wines must spend 12 months in oak barrels and 24 months in bottle before release, which this effort did. Bierzo—and Godelia—are noted for old vines. The Mencia vines to produced fruit for this effort range from 50 to 90 years old. That means low yields, concentrated flavors, and significant structure, all of which Godelia Mencia exhibits.
Godelia began in 2009 when Vicente Garcia Vasquez, an optometrist, purchased the vineyard of old mountain vines and maturing hill-slopes vines in the center of the valley from a producer who used a different brand name. Vasquez created the name to allude to a fresh and feminie Bierzo, contracting Godello (a white grape of Bierzo) and Lias (lees). Josep Serra Guyillen is the lead winemaker, Silvia Marrao his assistant.
Godelia makes a godello-doña blanca blend I reviewed earlier: Review of the Godelia blend
Godelia Mencia 2012 is fruit forward, powerful alternative to Burgundy and Bordeaux classic wines. Winemakers in Bierzo assert mencia belongs in the conversation about great reds, and Godelia Mencia helps make their argument. This effort has rich, deep fruits, length and complexity, all at a sensational price point (that's how Spanish wines roll). It is serious and sophisticated rather than delicious and fun. A flurry of top reviewers rated it 90-plus; Suckling 94. Superb food wine to pair with serious meat flavors; I wish I had a grilled steak to accompany my tasting. Pair with lamb, beef, pork chops, blackened chicken with Cajun spices, grilled duck with walnut pesto, venison and other wild game. $18-20
Godelia website, Spanish, not much information but nice photos.