Deep ruby-purple color; cherry and berry on the nose; raspberry, red plum, cherry on the palate.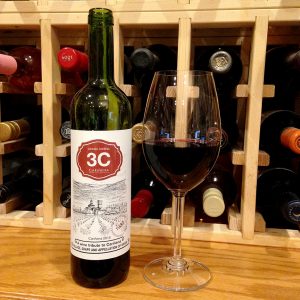 Dry; light tannin, good raspberry-centered fruit, a smooth, easy drinker— unexpected because of the grape (cariñena/carignan). Sensational price. Medium body; acidity, especially on the mid-palate, but not excessive. Bravo to Grandes Vinos because this is not a typical evaluation of a cariñena/carignan wine and is the second straight year I have been impressed and enjoyed by this wine.
This wine is named after the grape, the region, and the town—all Cariñena. Cariñena/carignan typically is considered a difficult grape, not well suited for early consumption nor well suited for long maturation. It typically is high in acidity, tannins, color, and potential bitterness. Its allure, however, is huge yields—up to 11 tons per acre. In contrast, four tons per acre is considered profligate in Napa/Sonoma, and high quality blocks may yield only two tons.
Cariñena usually falls in the table wine category. Fortunately, Grandes Vinos has figured out the cariñena trick, and this effort punches well above its weight. I uncorked the bottle with some trepidation and was happily surprised. This is not a sensational wine, but it definitely, clearly is not pour-it-out plonk. And you cannot stray too far from the enormous value-for-price factor. There are rustic elements, but they only flirt around the edges; it strives for roundness and comes very close; what emerges is a likable, lively personality wine the many people can enjoy.
Grandes Vinos seems to will itself to success. From the website: "Since the very beginning, GRANDES VINOS has set its strategic foundations on quality, innovation, and commitment to the surroundings and the environment. It has invested in modernity, in new work systems and better control of all processes; from the vine to the bottle; creating singular wines of great character that are unique to the area.
"At the heart of the interest groups are the over 700 families of winegrowers that belong to the Co-operatives and who work in the vineyards every day as their way of life, and who have accumulated several generations' worth of experience and knowledge unique in the world." Give this bottle a pour and see if you agree with me that they succeed with a very drinkable every day wine with some engaging elements.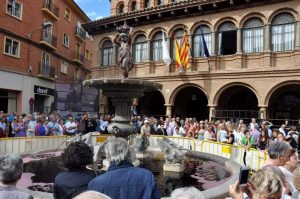 Cariñena—town and grape—has deep wine roots. King Philip II visited the village in 1585 and the town's central water fountains were made to flow with wine to celebrate the monarch's visit. One flowed with white wine, the other with red and "whoever wanted to drank from them." The event continues to be celebrated today during a September wine festival where the central fountain flows with red wine. Think about attending.
Grandes Vinos y Viñedos 3C Cariñena 2015 is tasty, dark fruit, raspberry forward, surprising effort. This is not yesterday's cariñena/carignan—this works, should have an audience, works impressively well as a second bottle of wine and/or the weekday wine with comfort food and friends who don't want to make the swirling and sipping too serious. I reviewed the 2014 vintage of this wine and had similar opinion. Pair with cured cheeses; Mediterranean dishes like peppery sausage, shrimp scampi, pizza; burgers and sliders. Great value-for-price. $8-10
My review of previous Grandes Vinos vintage