Medium ruby color; red plum, cherry, blackberry, blueberries on the nose; cherry, blueberry, plum jelly, strawberry sauce on the palate.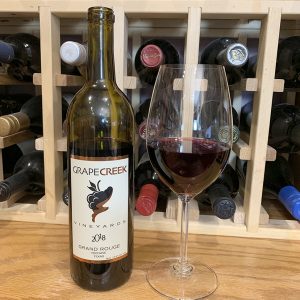 Off-dry; bold, very rich fruitiness. Medium body. Blend of 53.8% tempranillo, 46.2% sangiovese. This comes across as a sweeter wine than its likely residual sugar score, but it is sweet wine for a red. It is not semi-sweet, which is not even a formal still wine sweetness category, although several online notes call it such. Serve cold; higher temperatures emphasize the sweetness.
This will please those who enjoy sweeter reds, while avoiding the existential perils of cloyingly sweet reds. Call it "just sweet enough" to pleasure sweet red drinkers, but not so sweet to offend dry red sippers. If one drinker enjoys sweeter reds and the other drier reds, this is an engaging compromise; 13.6% ABV.
Grape Creek Vineyards is part of the Hill Country AVA (American Viticultural Area), the second most visited AVA in the United States, behind Napa. There is legerdemain (slight of hand) in that factoid: the Napa Valley AVA includes 225,300 acres (not all in grapes, of course). The Texas Hill Country AVA spans more than nine million acres basically everything north of San Antonio and south and west of Austin, even toward Dallas-Fort Worth (not nearly all in grapes, of course)—and 40 times larger than Napa.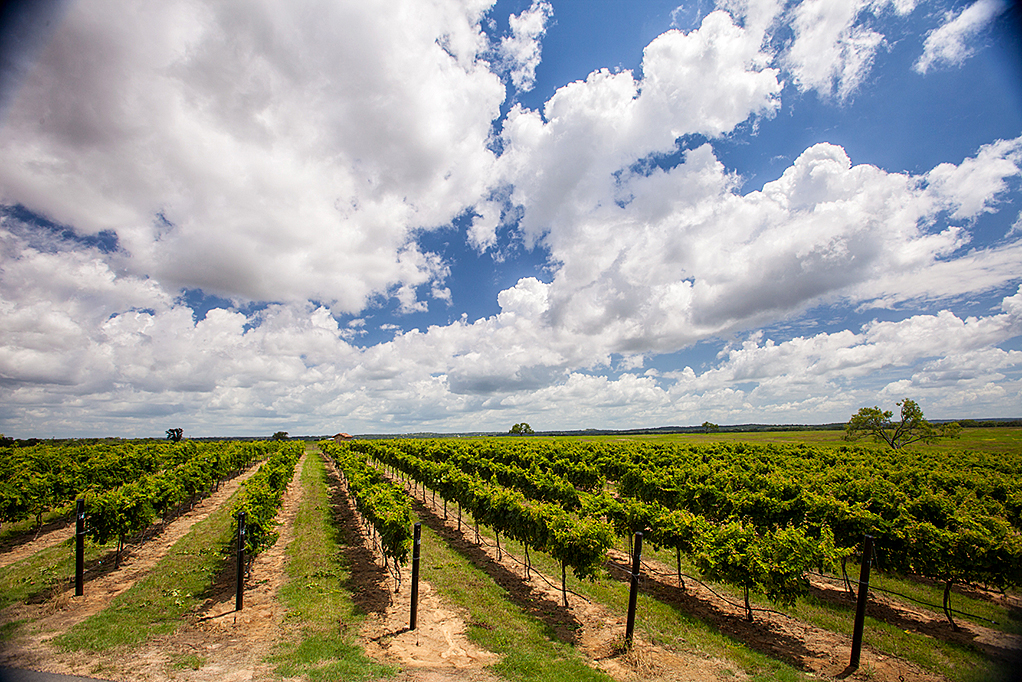 Texas wineries are concentrated in the Texas Hill Country AVA, while most Texas grapes are grown in the Texas High Plains AVA, which at more than eight million acres is slightly smaller than the Hill Country AVA. The High Plains grows 85% of the grapes that go into Texas wines. Together, the two AVAs sprawl over something like 18 million acres. Yes, things are bigger in Texas.
Texas Hill Country AVA wineries and tasting rooms are worth a visit. Many are located in Fredericksburg, a historic German community between San Antonio and Austin, or the tiny farm/ranch towns nearby located off Hwy 290, the Texas equivalent of Hwy 29 in Napa. The wisdom goes: "You go to Napa to visit vineyards. You go to the Texas Hill Country to experience a tasting room and a restaurant, and some pretty significant Texas characters." In the past 10 years, you easily can add "and some really great wine."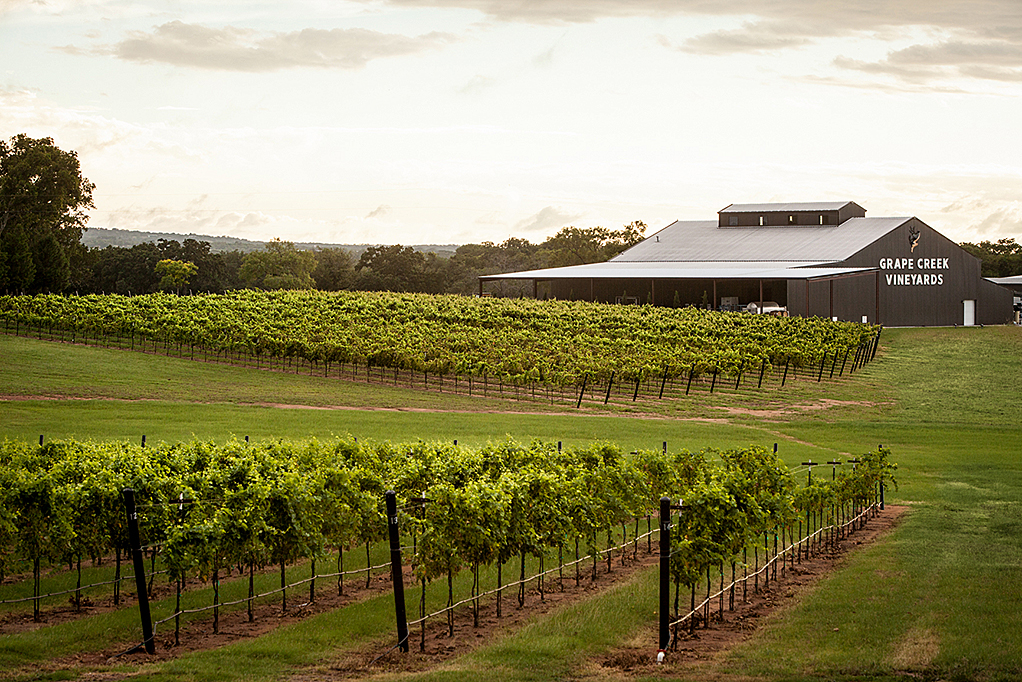 Grape Creek Vineyards are lovely and trim. Their visitor's center evokes Tuscany with a Texas-German slant. The adjacent restaurant—Stout's Trattoria—has excellent cuisine, great atmosphere. The staff was uniformly inviting and helpful. If you do the Texas Hill Country AVA, this Grape Creek Vineyards is a must visit.
Grape Creek Vineyards Grand Rouge Red Texas Wine 2018 is off-dry with big red grape fruitiness. This is unexpected wine. Those into dry, complex reds will likely tolerate rather than love its warm, fuzzy texture and be-my-friend fruity sweetness. Those into sweeter reds will find an easy drinking safe harbor here. That sweeter wine market is a real sweet spot in any winery's portfolio—it pays for the winemaker's forays into more serious, complex wines that win high scores and medals.
This is not built to pair with rich red meats, but it will work with spicy Tex-Mex and similar fare. Could work as a desert wine paired with Texas pecan pie, or sipped by itself. It is not nearly as sweet as a port, cherry, or Maderia. This also could be an excellent base for a high-end sangria punch. $26