Medium brown color; raisin, fig, caramel, chestnuts on the nose; raisin, prune, caramel, fig, toffee, almond on the palate.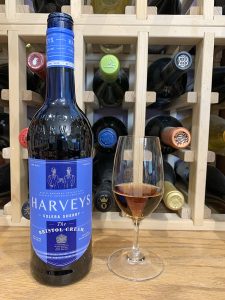 Sweet—sherry uses its own system for classifying sweetness. Cream is its own category with 115-140 grams of sugar per litre. Harveys Bristol Cream has 135 grams. The wine is thick and creamy in the mouth with nicely balancing acidity. Blend of 80% palomino grapes, 20% Pedro Ximenez. To achieve the rich sweetness, grapes are allowed to fully ripen even to the point of becoming raisins. Palomino is the classic and primary sherry grape; depending on how long it ripens; it can make dry sherry through sweet, cream sherry. Pedro Ximenez is another classic sherry grape; it delivers high acidity and, therefore, is often part of the blend in sweet sherry. In sherry, after fermentation, grape spirits (distilled grape wine) are added—fortifying the wine—to bring the ABV to 17.5%.
Heavier versions of sherry, like this Bristol Cream, are allowed to oxidize in barrel as its age in the "solera" system. The oxidizing brings out nutty flavors and darkens the wine. The solera system blends wines from different vintages as they age. Since no barrel in the solera system is ever completely emptied, at least a small amount of the wine in your glass could be decades old, going back to the original solera. Barrels are made of American oak and the wines are aged in the system a minimum of three years.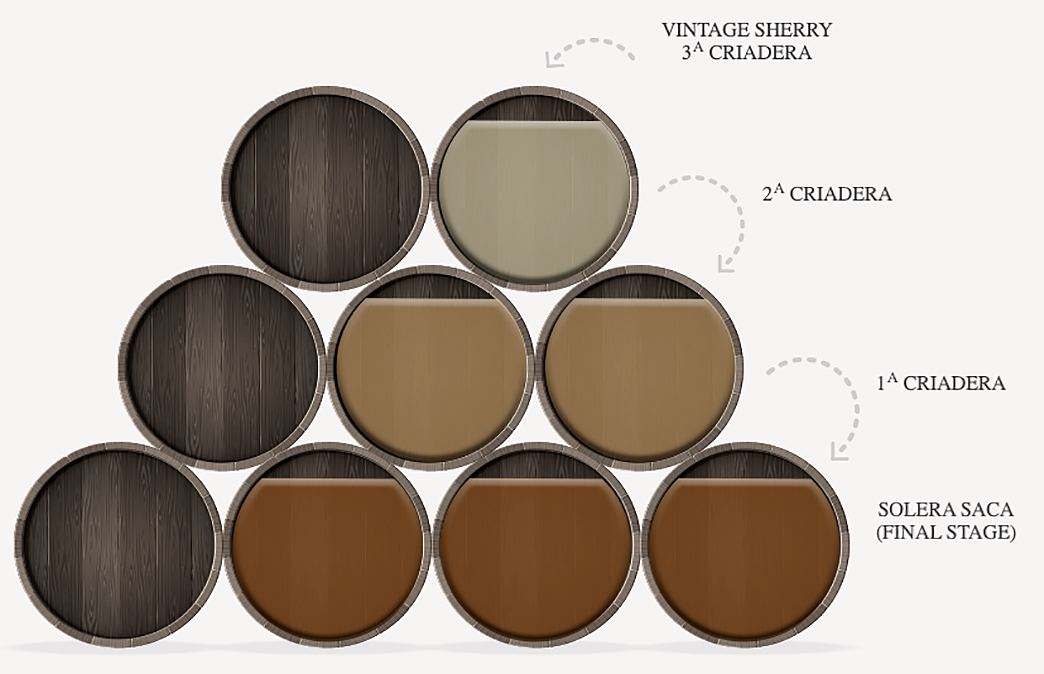 Harveys was founded in Bristol, England in 1796 by merchant William Perry. At the time, sherry was imported into Britain in oak casks by ship, and then blended in Bristol. During the 19th century, Harveys became one of the largest importers of sherry from the Bay of Cadiz to the port of Bristol. Harveys Bristol Cream, created in 1882 by John Harvey II and his brother Edward, is the result of a meticulous selection of over 30 blends of Fino, Oloroso, Amontillado and Pedro Ximenez grape. It is aged in American oak casks using the traditional system of soleras and criaderas. Solera is the overall sytem; criaderas ("nurseries") are the barrels at the beginning of the process.
Harveys vineyards are situated in the picturesque region of Jerez in southern Spain where the local winegrowers cultivate a selection of grapes. Southern Spain is the home of the golden triangle. The three points of the golden triangle of sherry production are the cities of Jerez, Sanlucar de Barrameda to the west and El Puerto de Santa Maria to the south. Each area has its own microclimate that contributes to the character and style of its local sherry.
Harveys Bristol Cream Solera Sherry NV is best served chilled—the "Harveys" name on the label turns from white to a light blue when the optimal temperature is reached. Bristol Cream also can be poured over ice and garnished with fresh fruit. Works all by itself before and after a meal, especially as dessert pairing. Pair with appetizers and snacks; as an aperitif; cured meats; charcuterie board; paella; nuts. Dessert—dark chocolate, brownies, mince pies; chocolate ice cream; poured on vanilla ice cream. Cheese—mature and hard cheeses; aged gouda, parmigiano reggiano, comte, blue cheese. $16-19