Pale copper-pink color; strawberry, honeysuckle, lavender on the nose; raspberry, watermelon, strawberry, orange, minerality on the palate.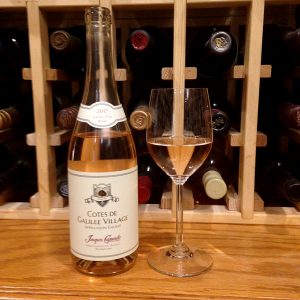 Dry; light body, crisp, refreshing, youthful. No oak, good acidity. Made in Provence style. Blend of 50% cinsault, 25% grenache noir, 25% mourvedre; 13.5% ABV.
The winery has an inspiring story; from the website: "Jacques Capsouto was born in Egypt, moved to France as a teenager where he absorbed a love and understanding of food and wine. He also adopted a French manner, French mannerisms and a thick French accent, which he maintains until today. Eventually he settled in the United States where he founded the Capsouto Freres Restaurant in the Tribeca district of Manhattan. This restaurant, which he owned and managed with his two brothers, was successful for over thirty years. It was famous for having the finest souffle in New York." Also as a non-kosher restaurant that featured wines from Israel.
In 2010, Capsouto's brother, Albert, died ahead of his time. Two years later, Hurricane Sandy destroyed Capsouto's restaurant and the restaurant closed. The website explains: "Capsouto dusted himself down and focused on achieving his new ambition: founding a winery in Israel. At the age of 70 years old, he became a pioneer in Israeli wines."
The Cuvee Eva is named for Capsouto's mother, who consistently advised him to "do something for Israel."
Jacques Capsouto Cotes de Galilee Village Cuvee Eva Rosé 2017 is fresh, very easy drinker in the Provence style. Very pleasant and tasty. Elegant, delicate. No overpowering notes; clean. This clearly works as an aperitif. Rosé is very versatile food wine; this will go with lighter fare, fish and lighter seafood, salads. $20