Deep yellow-gold color; flowers and peaches on the nose; peach, yellow apple, almond, hint of lemon on the palate.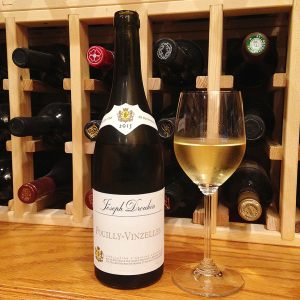 Pure chardonnay play; some juice aged in stainless, some in oak. Dry, very clean, crisp, precise. Reserved fruit; this is wine with clarity of purpose—exact chardonnay, not big fruity, no butter, just a suggestion of oak, minerality, some herbaceous notes. Sergeant Joe Friday would like this: "Just the facts, ma'am." [Jack Webb/Joe Friday never actually said those precise words in the TV show, BTW, but it makes a point.] This is what pure chard tastes like.
The 2015 vintage was challenging for white wines in Burgundy, but this effort emerges as a very exact presentation of chardonnay without winery bells and whistles. It has cool, correct, reserved chard fruit. It will clearly work with food, while it will not do so well as cocktail hour drink because it is correct, not fruity delicious. If not with food, enjoy ice cold around the pool where its 13% ABV will not leave you blotto when the sipping is done. This bottle's métier is enhancing food while playing in the background, not raising the laughter level at the book club soiree.
The Drouhin family has operated Maison Joseph Drouhin in Beaune since 1880. The fourth generation now runs the négociant-domaine operation. They own vineyards throughout Burgundy as well as the Willamette Valley in Oregon in addition to obtaining grapes from other growers. The house created one of the white wines that competed in the Judgement of Paris in 1973, coming in fifth among 10 wines. The take-away from this factoid is they were one of the wines picked to be in the competition. There were no slackers in the glasses that day.
The house is committed to biological and biodynamic approach to wine, showing respect for the soil, the vine, and the environment. They were among the first to adopt "culture raisonnée" (elimination of pesticides and chemicals) in the late 1980s, long before such an approach was considered a marketing advantage. Drouhin did it because they thought it was the right thing to do. Drouhin was among the first to build a laboratory of enology; it was started by Laurence Jobard, the first female enologist in Burgundy. Women continue to play essential roles: Veronique Drouhin, one of the fourth generation, is the lead winemaker at Drouhin.
The family's charter of excellence states: "The Burgundian terroir expresses itself through the vine: our role is to translate and reveal its most subtle messages." This effort reflects that mission statement.
Joseph Drouhin Pouilly-Vinzelles 2015 is somewhat austere, but will pair well with food where it will cleanse the palate instead of dominating the conversation. A competent effort from a storied Burgundian maker, but it struggles to deliver wow a this price point. On the other hand, if you want straightforward chard that does not pound your palate or overwhelm your food, this is well worth a try. $17-21
Joseph Drouhin website
Drouhin U.S. importer website with good videos about Drouhin